A woman has shed three stone by increasing the amount she was eating.
Emma Bowie, 23, grew to a size 18 and nearly 15 stone following the birth of her daughter Olivia, now five.
When doctors warned her she would have to come off the contraceptive patch if she continued gaining weight she vowed to lose weight.
And she did it by eating more. Now she is a size 12 and 11st 2lb.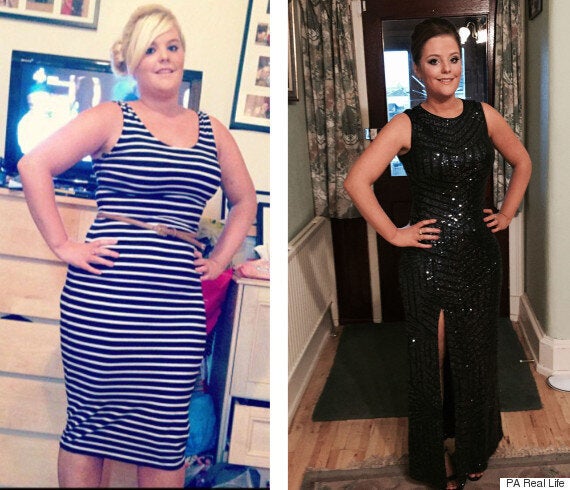 She told how before losing weight she mainly survived on snacks such as crisps and chocolate. Now she will cook herself meals like pasta salads and stir fries.
For the first time she will also wear clothes including playsuits and miniskirts.
"I was so busy with Olivia that I barely had time to eat," Miss Bowie, of Glasgow, said. "I never had breakfast and I'd just snack throughout the day or grab a takeaway in the evening.
"I wasn't eating a lot but I ate all the wrong things.
"Now, I make sure I have three meals a day.
"I eat a lot more but it is all healthy things, so my body doesn't store the fat."
Previously 14st 12lb Miss Bowie decided to tackle her weight after it crept over the threshold recommended by doctors for those using the contraceptive patch.
The NHS advises that the patch may not be suitable for those over 14 stone as it can potentially cause blood clots.
Dr Anita Sturnham of NURISS Skin Care & Wellness said:
"For most women the contraceptive patch is safe, but there are some medical conditions which may make this method potentially risky for your health.
"If you are overweight you have an increased risk of blood clots in your lungs or legs or even heart disease if you use this method of hormonal contraception."
Miss Bowie said hearing she may be too heavy for the contraceptive patch was her wake-up call.
"I didn't want to use any other type of contraception as they'd given me awful side effects in the past, so I decided to join Slimming World," she said.
"At my first meeting, I was really to get on the scales and realise just how heavy I was."
Originally, she signed up with five friends but, slowly, they all dropped out.
However, determined Miss Bowie refused to quit.
"I was so focused on getting to my goal weight that I didn't let my friends quitting tempt me to do the same," she said.
"Seeing the difference in my body shape spurred me on.
"It was amazing to be able to go shopping and be able to buy pretty tops and skimpy dresses.
"I never realised how unhealthy I was until I looked back on pictures of myself at my heaviest."
As well as sticking to her meal plan, Miss Bowie also swims, jogs and uses a vibrating plate to maintain her trim figure.
She has also helped motivate others to get in shape.
"My friends, family and colleagues are always asking me for tips," she said.
"It's one thing to see a celebrity looking thin in a magazine but it's another to see somebody you know in real life.
"Some weeks, I'll put on a couple of pounds but I always lose it again.
"It's strange to think I eat a lot more now than I ever did before, but it just goes to show that you don't have to starve yourself."