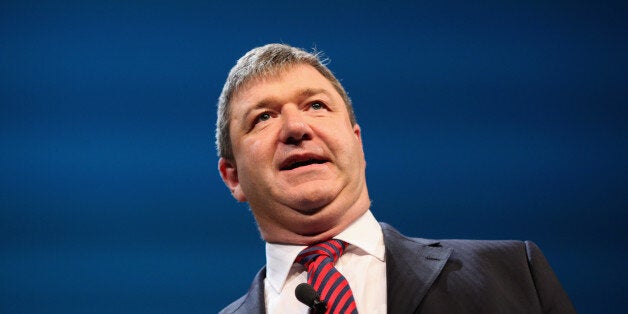 Former Scottish secretary Alistair Carmichael has admitted to leaking an internal UK government document that claimed Nicola Sturgeon wanted David Cameron to win the election.
On April 3, in the middle of the campaign, the Daily Telegraph reported the explosive story based on a memo detailing a conversation between Sturgeon and the French ambassador.
Today, Carmichael admitted he had agreed with his special adviser, Euan Roddin, to leak the document to the newspaper.
He said in a statement: "The Cabinet Office has today published the conclusions of its inquiry, after an internal account of the First Minister's discussions with the French Ambassador was published in the Daily Telegraph on 3rd April.
"I had not seen the document before it was published in the Daily Telegraph, however I was aware of its content and agreed that my special adviser should make it public. I should not have agreed this. It was an error of judgement which I regret. I accept full responsibility for the publication of the document. I have written today to the First Minister and to the French Ambassador to apologise to them both.
"Had I still been a Government Minister I would have considered this to be a matter that required my resignation. I have therefore informed the Cabinet Secretary that I will decline my ministerial severance payment."
Carmichael had previously said the first time he heard of the leak was when he was called by a reporter. Sturgeon said today that Carmichael should "reflect on whether his actions and attempt to cover them up are consistent with his position as an honourable member of the House of Commons"
At the time, Sturgeon said the claim she had told the ambassador she wanted to see a Conservative victory was "100% untrue".
The memo was written by a Scotland Office civil servant, recording what the French Consul General told him had been said between Sturgeon and the ambassador.
The Cabinet Office inquiry published today there was "no evidence of any political motivation or 'dirty tricks'" and that it believed the memo was an "accurate" account of the conversation.
In a letter to Sturgeon, Carmichael said he took "full responsibility" and admitted it was a "serious breach of protocol".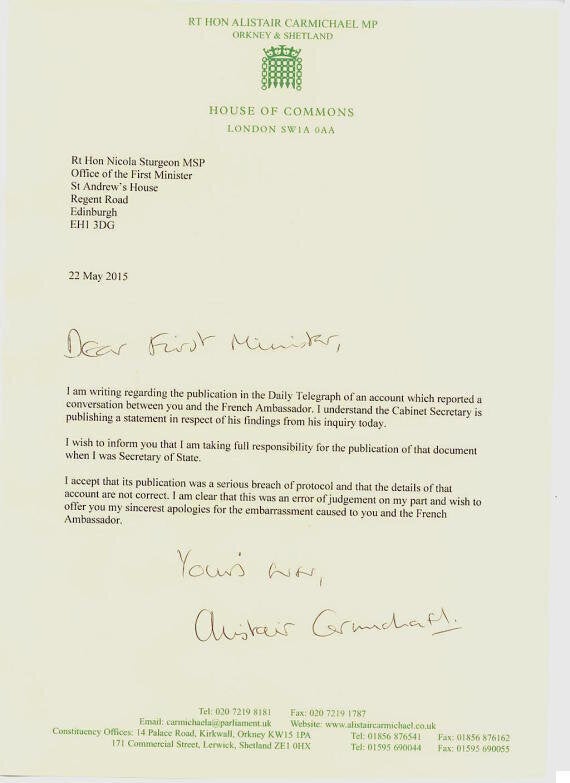 SNP minister Humza Yousaf said: "Alistair Carmichael's smears against Nicola Sturgeon worst kind of politics, precisely reason why people have no faith in establishment."