Tremors from an earthquake shook residents awake in Kent on Friday morning, but just what causes an earthquake and how common are they?
The 4.2 magnitude tremors which hit shortly before 3am left some people fearing there had been an explosion, while others took to Twitter to mock the "devastation" wrought by the underwhelming vibrations.
Police said there have been no injuries or damage to buildings.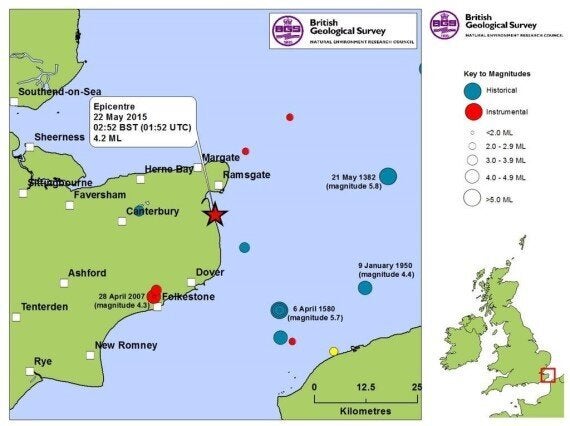 The earthquake hit Kent in the at 2.57.am on Friday
More than 800 "felt reports" were received by the British Geological Survey (BGS), mainly from residents in Ramsgate, Margate and surrounding areas.
But the BGS said reports of the earthquake were also received from as far afield as Norwich, North Walsham and Cromer in East Anglia.
Below are the answers to some of the most commonly asked questions about earthquakes.
An earthquake is the sudden release of strain energy in the Earth's crust resulting in waves of shaking that radiate outwards from the earthquake source.
When stresses in the crust exceed the strength of the rock, it breaks along lines of weakness, either a pre-existing or new fault plane.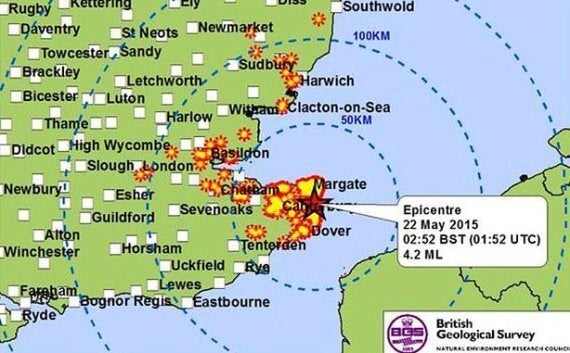 The earthquake hit Kent in the early hours of Friday morning, measuring 4.2 magnitude
How often do earthquakes occur in the UK?
On average, around 200 earthquakes a year are thought to hit the UK, with a magnitude 4.2 happening every two or three years.
What has been the most damaging quake to hit the UK?
The Colchester earthquake of 1884, with a magnitude of 4.6 was the most damaging earthquake in the UK for several centuries.
There was considerable damage to churches, including the top of a spire falling, falling masonry from roofs, falling turrets and parapets.
Damage to homes included shattering of brick walls, and chimney falls, often through roofs.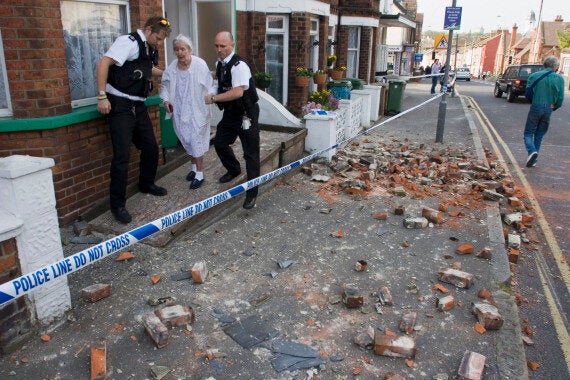 What is the largest earthquake to have been felt in the UK?
The North Sea earthquake of 7 June 1931, with a magnitude of 6.1 and with an epicentre offshore in the Dogger Bank area is the largest known earthquake in the UK.
Seventy-one different places in the UK reported damage, with the strongest effects at Filey, where the top of a church spire was rotated.
A factory roof is reported to have collapsed at Staines, Surrey. The earthquake was reportedly felt by a number of vessels in the North Sea and a woman in Hull died of a heart attack, apparently as a result of the earthquake.
How does last night's earthquake compare with the recent tragedy in Nepal?
Last night's earthquake was significantly smaller than that which caused widespread devastation and claimed thousands of lives in Nepal.
It was about 260,000 times smaller in terms of the energy released by the earthquake.
Last night people would have felt slight vibrations and been awoken from their sleep, compared to buildings collapsing and widespread damage caused by the magnitude 7.8 quake that struck near Kathmandu.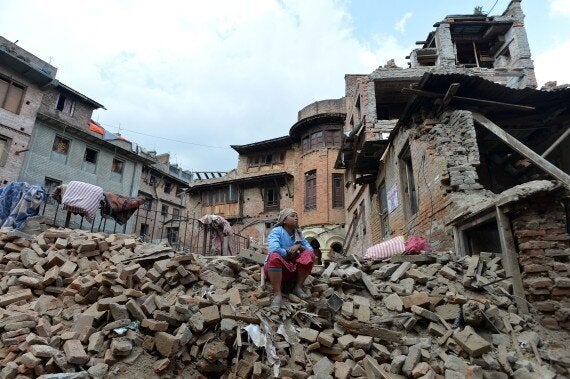 The devastating earthquakes to have hit Nepal left thousands dead and even more without homes
Popular in the Community