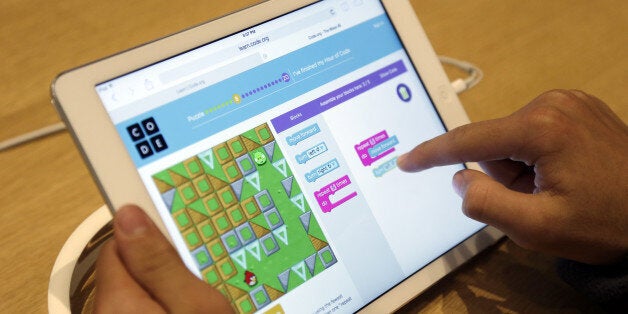 Students are to be taught how to create the next Facebook after a new programming GCSE was announced which will teach teens about online viruses, hackers and computing skills.
Exam board OCR says 60% of the course will be based on computational thinking, which includes solving complex problems and designing solutions through programming. Pupils will also put the skills they learn to use on coding projects which solve "real" problems, such a designing an app.
"There is growing demand for digital skills worldwide. Whether students fancy themselves as the next cyber-spook, Mark Zuckerberg or Bill Gates, our new qualification will be the first exciting step towards any career that requires competence in computing."
Meanwhile official figures have suggested traditional GCSEs are being rejected by schools in favour of alternative international courses, official figures suggest.
New government statistics show sharp drops in GCSE entries for key academic subjects such as English literature, languages and the sciences, while International GCSE entries in these areas have seen a steep increase, with numbers rising fivefold in some cases.
Headteachers' leaders suggested the hikes could be down to schools seeing the grading system of IGCSEs as more stable than that of GCSEs.
IGCSEs are usually two-year courses with exams at the end, and often less coursework.
Figures published by exams regulator Ofqual show that as of April, entries to take GCSEs this summer had fallen by 3%, while entries for IGCSEs were up 55%.
A subject breakdown reveals that entries for Year 11 students (16-year-olds) to take GCSE English literature are down 14%, maths entries are down 4%, and entries for each of the three sciences, biology, chemistry and physics have fallen by 8%.
GCSE history entries have dropped by 4%, while in languages, there have been falls of 3% for Spanish, 6% for French and 11% for German.
In comparison, IGCSE entries for each of these subjects have risen. English Literature entries are up 207%, while the numbers for Spanish have risen by 447%, for German they are up 413% and for French, 383%.
Maths entries are up 64%, biology 83%, chemistry 78%, physics 80% and history 130%.
Malcolm Trobe, deputy general secretary of the Association of School and College Leaders (ASCL) said that schools will have made choices about qualifications in the early part of 2013 for students sitting exams this summer.
"Schools will have made their selections on what they believe to be the most appropriate courses for their students. It would indicate that significant numbers of schools have decided that IGCSE, in English literature and English language particularly, are preferred courses to GCSE."
He added: "I think what people would say is there's significantly more stability in the grading system of IGCSEs than was perceived in the GCSEs. That to me would be a major factor."
These decisions will have been made not long after serious concerns were raised by school leaders in the summer of 2012 about grading of GCSE English.
IGCSEs that are regulated by Ofqual currently count in annual school league tables, but in 2017 and 2018, starting with English and maths, these will be stripped out of the rankings as teenagers begin to sit newly-reformed GCSEs.
Mr Trobe said this will affect the courses that schools choose for their pupils.
"The majority of secondary schools will be moving back to GCSE from this September, because that is what will count in performance tables."
He added that it was "not helpful" to schools that have previously made decisions in good faith, based on available information, on the best qualifications for students and now the situation has changed.
Richard Harman, chair of the Headmasters' and Headmistresses' Conference (HMC) which represents leading private schools, said: "It is understandable that in an extremely volatile 'accountability' environment, head teachers in the state sector are trying to ensure that best levels of attainment for their pupils from among the various public exams available.
"In contrast, independent schools are free from such political pressures to make their own decisions about which qualifications to offer. For several years now, more and more HMC schools have adopted the more rigorous Cambridge IGCSEs.
"The awards are overseen by the university and not regulated by Ofqual, and so are not counted in these figures. However, most of our schools believe that they are the best way to prepare pupils for more advanced study in the sixth form.
"This is yet more evidence that the constant change imposed by Government creates confusion for heads, teachers, universities, employers and most importantly, the young people working hard to take these exams and their families."
The figures also reveal a 32% drop in the number of entries from pupils sitting the exams early - in Year 10 or below.
A Department for Education spokesman said that the statistics show that more pupils now taking their GCSEs at the right time when they are likely to achieve the best grade they can, and that overall entry for English Baccalaureate subjects (English, maths, science, history, geography and languages) has increased.
"This builds on the success of 90,000 more children studying these important subjects last year alone," he said.
"Last year we stopped counting the final tranche of unregulated IGCSE. Some of these increases may be due to schools moving to regulated IGCSEs.
"We are confident that teachers, parents and pupils will recognise the new rigorous GCSES - to be introduced from 2015 - are the best qualification to prepare them for further study, a job or an apprenticeship."