A new era of equality has been heralded in Ireland as the country overwhelmingly voted in favour of gay marriage.
Twenty-two years since homosexuality was decriminalised, the Republic wrote itself into history books by becoming the first in the world to adopt the social reform through a popular poll.
Some 1.2 million people backed the campaign to enshrine rights for same-sex couples in the Constitution, almost two thirds of those who voted.
New laws on gay marriage will be put to the Dail parliament before the summer potentially paving the way for the first ceremonies to take place before the end of the year.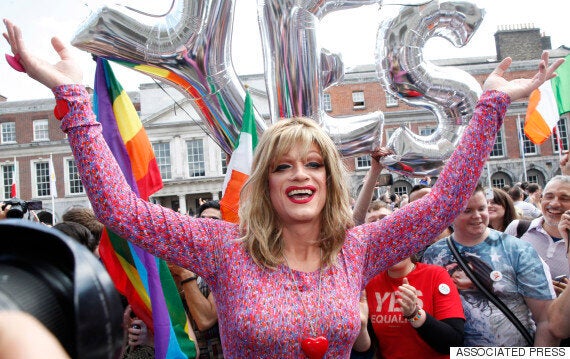 The official passing of the vote to allow gay marriage in Ireland was announced about 7pm to an overjoyed crowd
Leo Varadkar, Health Minister and Ireland's first openly gay cabinet member, described the impact the momentous victory had on the country.
He said: "Something has been awakened in the Irish people ... it was not just a referendum it was more like a social revolution."
In stirring and emotional scenes in the grounds of Dublin Castle, the near two to one majority was officially declared shortly before 7pm Saturday sparking tears and joy.
About 2,000 people gathered in the normally quiet upper courtyard waving pride flags, feather boas and umbrellas as couples embraced and kissed under a huge screen capturing the moment.
Outside the imposing iron gates of the castle, hundreds of others unable to get in joined crowds spilling out from nearby bars to share the moment.
Taoiseach Enda Kenny paid tribute to the 60,000 young people who registered to vote in recent weeks and thousands of emigrants who came home from as far afield as Canada, the US and Australia to cast ballots on Friday.
He said: "It's a piece of history."
The result is all the more significant for the social shift it heralds in a country which was traditionally a bastion of Catholicism and conservative lifestyles.
Diarmuid Martin, Archbishop of Dublin, declared the groundswell of support for same-sex couples was a social revolution that did not happen in the last day.
"I think really the Church needs to do a reality check," the cleric said.
Voters were asked one simple, specific question on whether to amend Article 41 of the 1937 Constitution by adding a new clause to a section titled The Family.
It asked them to support or reject a change to the 78-year-old document which reads: "Marriage may be contracted in accordance with law by two persons without distinction as to their sex."
There was only one blot on the landscape with one of the country's 43 constituencies, Roscommon-South Leitrim opposing the constitutional change by a narrow margin of 51.42% voters against extending marriage rights to gay people.
The biggest support came in Dublin South East where just shy of 75% of voters backed the reform.
Already the resounding victory for gay rights campaigners is being billed as a massive boost for the Republic's reputation on the international stage.
At the same time attention was shifting to Northern Ireland, one of the few regions of Europe were gay marriage is not enshrined in law.
Colm O'Gorman, director of Amnesty International Ireland and a married gay man with two children, said the vote sent a message that all people are cherished and valued.
"It has a great resonance here in Ireland but it's one that's going to echo around the world," he said.
Amnesty revealed plans to ramp up its campaigns for marriage equality in Belfast with director Patrick Corrigan adding: "Northern Ireland is now the last bastion of discrimination against gay people in these islands."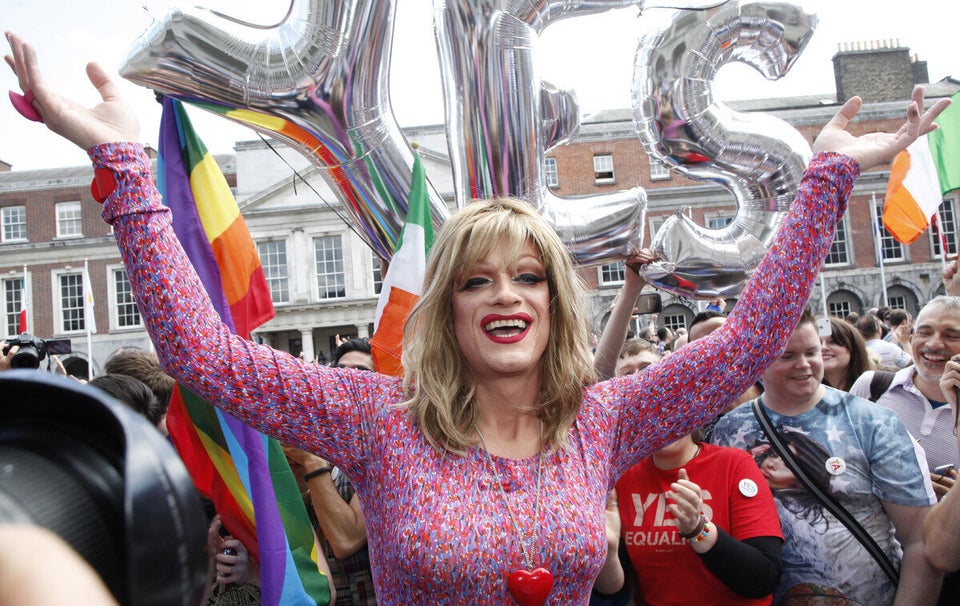 Ireland votes for same-sex marriages
Senator David Norris, who drove the decriminalisation of homosexuality from the 1970s to 1993, said: "It's wonderful. It's a little bit late for me ... I've spent so much time pushing the boat out that I forgot to jump on and now it's out beyond the harbour on the high seas, but it's very nice to look at."
Eamon Gilmore, former Labour Party leader who pushed the coalition government to hold a referendum, said: "I think it is a very powerful statement by Ireland to the rest of the world."
While the final results were announced until early evening Saturday, victory had all but been confirmed by mid afternoon
Some hours earlier Ireland's equalities minister Aodhan O'Riordain, was already celebrating. He tweeted soon after lunch that Ireland had not just said "yes", it had said "f*uck yes". JK Rowling sent out congratulatory tweets.
Key campaign groups fighting the reform conceded defeat before any formal declarations.
Speaking at the Hay Festival, Stephen Fry said he was "dizzyingly" happy since marrying his boyfriend four months ago, and said he was delighted that same sex couples in Ireland now can tie the knot as well.
The presenter, actor and comedian married 27-year-old partner Elliot Spencer in January and admitted that their relationship had a lot to do with his contentment.
He said: "I congratulate the people of Ireland - I'm happy they've decided to respect the sanctity of marriage.
"It's not about being right or expressing how clever and smart and progressive we are - it's about giving others permission to join in
"Married life has suited me wonderfully. I'm dizzyingly happy and I'm looking well particularly because of that - and I'm as well fed as always."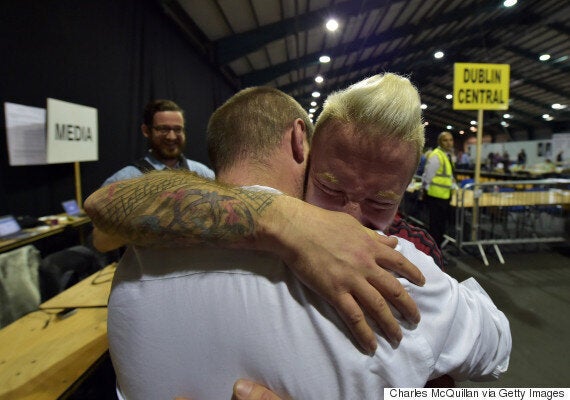 There were emotional scenes as vote counts revealed a Yes result was on the cards
Earlier Saturday Fianna Fail leader Micheal Martin told RTE Radio that he was confident the result would see the introduction of gay marriage.
"I think it was a debate that captured the imagination and I had a strong sense that the Yes vote would win," he said. "I think that will be borne out today."
The same-sex marriage decision is the 34th amendment to the constitution but, regardless of the result, the campaign will rank with other hotly-contested issues such as divorce and abortion.
Other countries have held referendums on gay marriage, including Croatia, Slovakia and Slovenia, where the extension of the right was not passed by the electorate.
Rejoicing had already begun on social media by the late morning, with many labelling this a historic day for Ireland.