A homeless man has been reunited with his beloved pet dog – after she was allegedly stolen by a man posing as a policeman.
According to reports, Staffordshire bull terrier Treacle was taken from her owner, a homeless man named Michael in the London Bridge area, on Wednesday.
Michael was approached by a man who claimed Treacle would be taken to Battersea Dogs and Cats home because he was "abusing her" – and was told he would have to pay to get her back, the Evening Standard reports.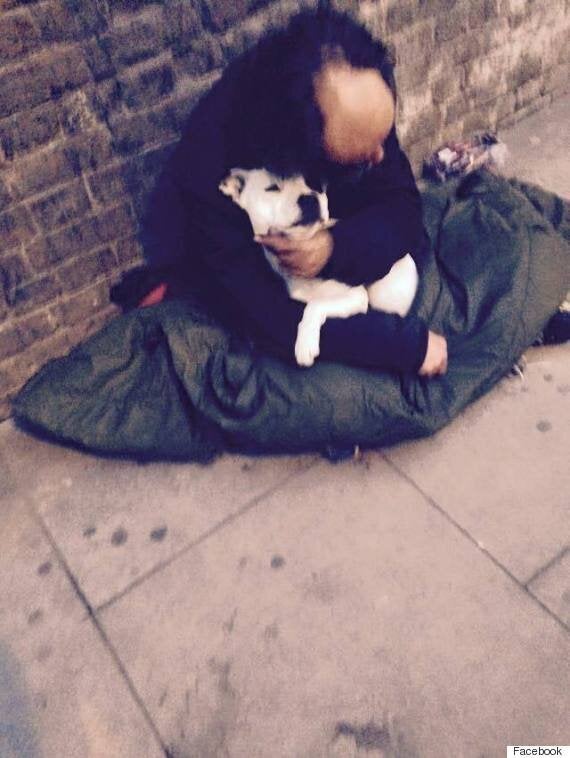 Reunited: Michael and Treacle share a hug
A social media campaign sprang into action, with thousands tweeting and sharing images in a bid to get Treacle back.
She wrote: "He's so happy to have her back."
The circumstances under which Treacle was returned to Michael are not known, though he was known to be in a distressed state while she was missing.
One appeal gave a description of Treacle, calling her "gentle and loving", before adding: "Her dad is in a complete mess – he literally cannot cope without her – I found him rocking backwards and forwards today barely able to speak. Treacle is chipped, her details are with the dog wardens, Battersea & the police – if you know where she is please let me know – NO QUESTIONS ASKED ON HER RETURN!"
A charity which offers help and advice to homeless people and their pets tweeted they were satisfied Treacle had been returned to Michael.
Off The Streets wrote: "After speaking with 2 TFL guys at London Bridge I can confirm & 100% satisfied that Treacle is now back with Michael! #treaclefound"