Think you're having a bad day? Spare a thought for poor Tom Cook.
Cook is a poet and "ambling postgraduate" at Oxford University. And it seems he had something of a coup for The Times Literary Supplement:
Coming up in this week's TLS:

A previously unpublished poem by Philip Larkin

Available from tomorrow pic.twitter.com/y3mGSendrq

— TheTLS (@TheTLS) May 20, 2015
An unpublished poem by Philip Larkin, now available on our site @TomCook24 @Soc_of_Authors http://t.co/YIZZLdu5Ov pic.twitter.com/i6pqnU8tbX

— TheTLS (@TheTLS) May 22, 2015
That's right: an unpublished Philip Larkin poem. Which was proudly put on the TLS website...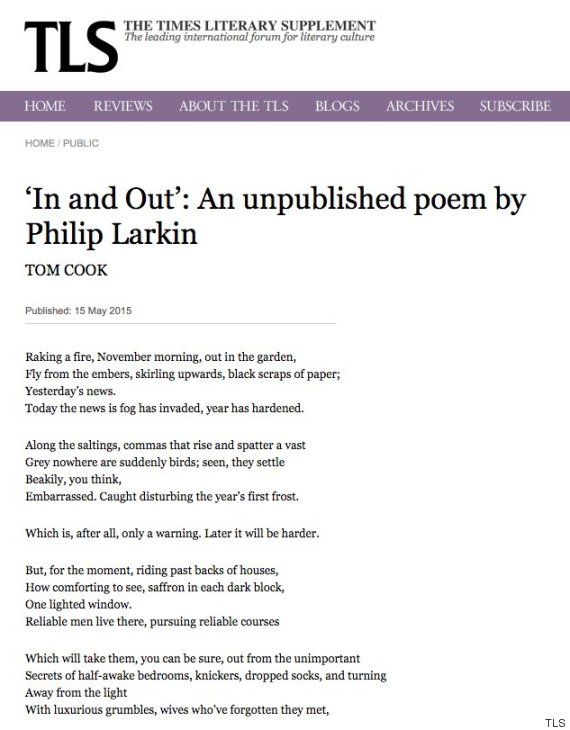 ...and promptly taken down again. Why? Because there turned out out be a slight problem. That problem being: this previously unpublished Philip Larkin poem wasn't actually by Philip Larkin.
.@michaelscaines on the story behind the Larkin poem that – it turns out – isn't a Larkin poem after all http://t.co/wj1HhYfpNO #TLSBlog

— TheTLS (@TheTLS) May 26, 2015
Yes, as Michael Caines points out in his piece, 'In And Out' - despite being "so perfectly (too perfectly?) Larkinesque" is, in fact, by a poet called Frank Redpath.
Tom Cook immediately tweeted a quote by TS Eliot (at least, we think it's by him):
O my people, what have I done unto thee.

— TS Eliot (@TSElibot) May 25, 2015
And several links to further explanations. But not before Twitter had a field day with the discovery...
This unpublished Larkin poem is, I must say, quite magnificent: pic.twitter.com/WaWWWADFwH

— David Whitley (@mrdavidwhitley) May 26, 2015
What I admire most is the way Larkin bravely repeats the opening two lines, to bring thematic conclusion to it. Magic pic.twitter.com/gXWzEiJNXD

— Ern Malley (@loveandgarbage) May 26, 2015
This undated lost Larkin poem shows him in a more pastoral mood: pic.twitter.com/07UMPrU1Fe

— Generalissimo Twll (@twlldun) May 26, 2015
This lost Larkin poem is probably from the early 60s, and shows his youthful idealism, soon to fade to cynicism: pic.twitter.com/ufWW0zXsj7

— Generalissimo Twll (@twlldun) May 26, 2015
That unpublished Philip Larkin poem. pic.twitter.com/BT7169KqPS

— Rick Burin (@rickburin) May 26, 2015
It fucks you up @TheTLS

It may not mean to but it does

It boasts a brand new Larkin poem

But Frank Redpath's wot it was

— Andrew Sholl (@andrewsholl) May 26, 2015
That newly discovered unpublished Philip Larkin poem is actually by J.K. Rowling.

— paul bassett davies (@thewritertype) May 26, 2015
Disappointed by the number of Larkin poems being tweeted *without* an accompanying picture of Eric Morecambe.

— Thom (@MrMoth) May 26, 2015
Of course, in Cook's defence...
Let's be honest, English poets: there are a *lot* of poems out there that might be identified as Larkin on an off-day http://t.co/y9HjpNdV1u

— Jeremy Noel-Tod (@jntod) May 26, 2015
Indeed. And Cook himself took it all in good part:
Thank you very much to everyone offering commiserations/support over my botched Larkin piece.

— Tom Cook (@TomCook24) May 26, 2015
Still, we don't think the surprising Larkin poems are going to stop any time soon...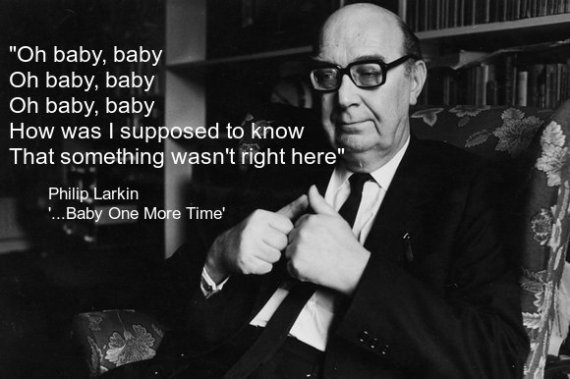 Well, indeed. How were we supposed to know?