Co-starring with Oscar-winning JK Simmons as his tyrannical teacher, Miles played drumming student Andrew Neiman, intent on impressing his increasingly hostile mentor Terence Fletcher. As Fletcher capriciously praises and then humiliates his student, Andrew goes to ever more destructive ends to earn his good favour.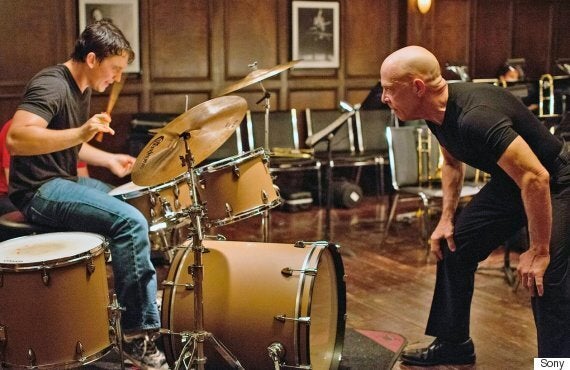 Andrew Neiman (Miles Teller) craves the good favour of tyrannical mentor Terence Fletcher (JK Simmons)
In our video above, Miles - a rising star with performances in 'Rabbit Hole', 'Footloose' and the 'Divergent' series - discusses his own relationship with music, and the drumming that is at the centre of the film.
The film was based on the real-life experience of writer and director Damien Chazelle, who went through similar torments when was part of the Princeton High School Band, although the teacher he based Fletcher mostly on, died back in 2003. He was also inspired, he reveals, by tales of single-minded band leaders including Buddy Rich, coincidentally the idol of student Andrew in the film.
Whiplash is released on Blu-ray and DVD on 1 June. Watch the trailer below...