Oxford University has nominated its first ever female vice-chancellor, 800 years after the role was introduced at the institution.
Professor Louise Richardson, who is currently principal at St Andrews University, is set to take up the role at the start of next year, subject to the approval of the institution's legislative body, known as Congregation.
She has been put forward by a nominating committee led by Oxford's chancellor Lord Patton of Barnes, who said the panel had been "deeply impressed" by Prof Richardson's commitment to the values that the university holds dear.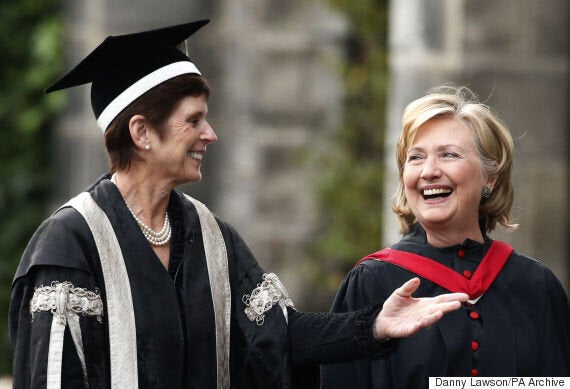 Hillary Clinton with St Andrews University principal and vice-chancellor Professor Louise Richardson (left) after receiving an honorary degree from St Andrews University.
Her appointment will make her Oxford's first female holder of the post since the first leader was appointed nearly eight centuries ago in 1230.
Before joining St Andrews, where she is also vice-chancellor, Prof Richardson was executive dean of the Radcliffe Institute for Advanced Study at Harvard University.
She said: "Oxford is one of the world's great universities. I feel enormously privileged to be given the opportunity to lead this remarkable institution during an exciting time for higher education. I am very much looking forward to working with talented, experienced, and dedicated colleagues to advance Oxford's pre-eminent global position in research, scholarship, and teaching."
Lord Patten said: "The panel was deeply impressed by Professor Richardson's strong commitment to the educational and scholarly values which Oxford holds dear. Her distinguished record both as an educational leader and as an outstanding scholar provides an excellent basis for her to lead Oxford in the coming years."
Prof Richardson, who is known for her work on terrorism and security studies and has advised policy makers, is due to take over from Oxford's current vice-chancellor Professor Andrew Hamilton, who is leaving to take over as president of New York University.
She was born in Ireland and has a BA in history from Trinity College, Dublin, and MA in Political Science from the University of California, Los Angeles (UCLA) and an MA and PhD in Government from Harvard University.
Popular in the Community