The stars of 'Coronation Street' cried tears of laughter at Anne Kirkbride's memorial service when the theme tune to rival soap 'EastEnders' was played.
READ MORE:
A few bars of the BBC soap's famous music were played as a spoof version of the closing music at the ceremony held in Manchester on Saturday.
Six hundred people, including members of Corrie's cast and crew, filled the city's Cathedral to pay tribute to the Deirdre Barlow actress, who died of cancer in January at the age of 60.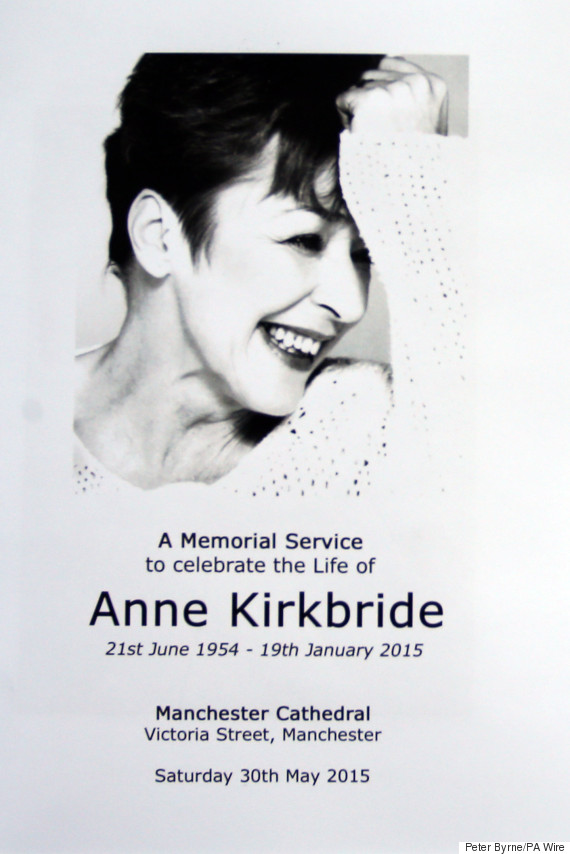 The order of service
Beverley Callard, who plays Liz McDonald in the soap told the audience: "Dave [Beckett, her real life husband] made Annie's life complete. Not only was he her husband but also her dearest friend.
"That meant everything. It made her an even better actress because she always knew at the end of the day she could go home and be herself, and be loved, and be enveloped in her gorgeous family.
"We are so thankful she has been in our lives."
She added: "That smoking shelter at work will never be the same again."
Elle Mulvaney, who played her on-screen granddaughter Amy Barlow, said: "Today as I stand here, I'm not just remembering my on-screen grandma. I'm also remembering my friend.
"Annie was caring, lovable and funny. Annie was always making everyone laugh on set, the hours soon passed by very quickly.
"Annie is now one of God's many angels and will be missed. But I know for me she isn't truly gone and she will always be in my heart."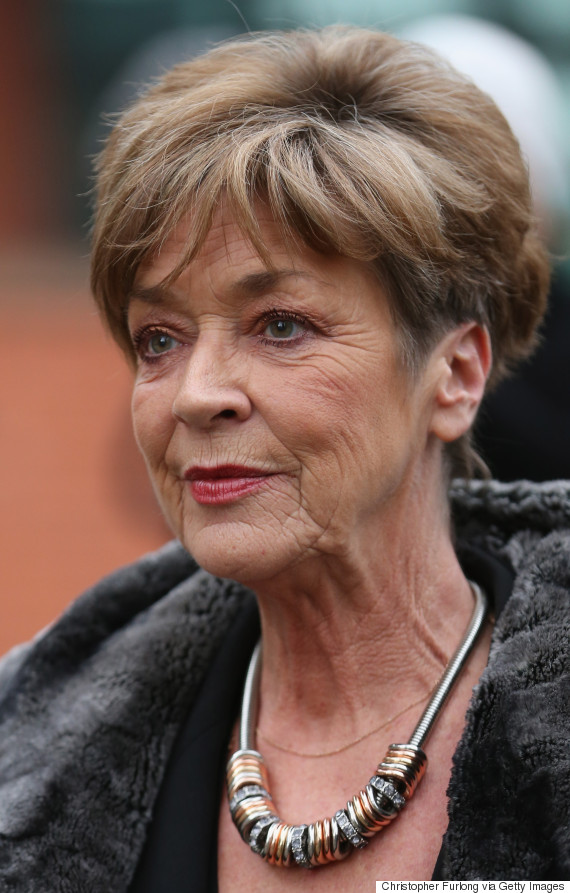 Anne Kirkbride played Deirdre on 'Corrie' for 42 years
The show's executive producer Kieran Roberts said Anne had 'the gift of making everyone feel special around her' with her 'warm, kind-hearted, generous, spirited, talented and fun-loving'.
"Annie we thank you for bringing so much light, laughter and love into all our lives for all those years," he added.
Two video clips of the actress joking around in her living room by singing and playing the harmonica were played during the service.
The music included a recording of Il Dolce Suono performed by Maria Callas, a live rendition of Caruso from classical tenor Tom Spence and a performance of Mozart's Sonata in G by Chetham's School of Music pupils.
LIKE US ON FACEBOOK | FOLLOW US ON TWITTER