Coconut oil still reigns supreme in the beauty world as a multipurpose miracle, but did you know it also makes a pretty amazing lip balm?
Whether you're a fully fledged creative or just a dabbler in DIY, this handy new video shows you how to whisk up your very own custom lip treatment.
Create a coconut oil and honey flavoured lip balm that's as dreamy as it is nutrient-dense in just five simple steps - and using only four ingredients (with a couple of optional extras that can be thrown in should you wish).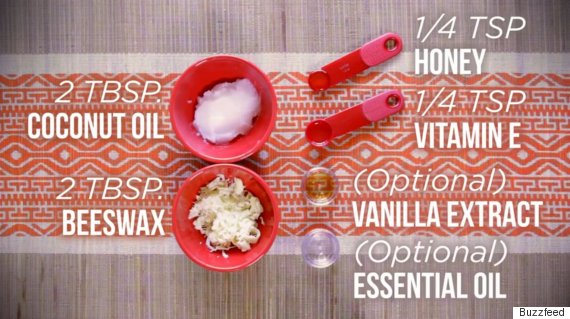 1. Grate the beeswax.
2. Melt the wax in the microwave.
3. Mix all the ingredients together.
4. Microwave for 30-second intervals and stir until melted.
5. Pour into containers and let sit until solid.
Et voilà! Your skin-smoothing coconut lip balm is ready to get to work.
SEE ALSO:

61% Of Women Aren't Washing Their Makeup Brushes Enough - Are You One Of Them?

Women Are Shaving Their Legs With Peanut Butter