Frankie Boyle is well known for his controversial comments on just about everything - but a piece written for the Guardian today seems to have just about everyone agreeing with him.
The column poses the unlikely question "What if David Cameron is an evil genius?"
The comic suggests that perhaps the Prime Minister could in fact be "a shrewd and malevolent psychopath who thinks two moves deeper into the game than any of his opponents".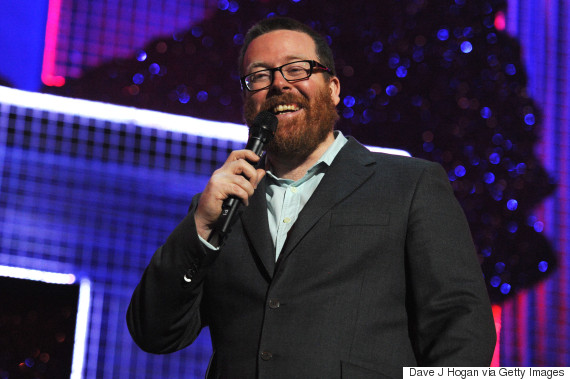 Boyle suggested that David Cameron could, in fact, be an 'evil genius'
He points out the possibility that Cameron may be a "modern-day Moriarty, living in a world where his schemes are only kept in check by the deductive brilliance of Harriet Harman".
SEE ALSO:
Wrote this for The Guardian yo http://t.co/qaxx8UT8eD

— Frankie Boyle (@frankieboyle) June 2, 2015
Others also make an appearance in the column - Boris Johnson as a "sort of pissed-up dandelion", Nick Clegg as "like one of those terrified mouse faces that you find in an owl pellet" and Michael Gove as a "kind of human bin fire".
Boyle is well-known for dividing opinion, but that didn't happen this time.
That Frankie Boyle piece is excellent, the best piece of writing I've seen in a while.

June 2, 2015
Frankie Boyle on David Cameron: "He is a sort of bored viceroy engaged in the handover of power from government to corporations." Nailed.

— Chris Weston (@westonfront) June 2, 2015
I love how, despite his comedic persona being a man without soul, Frankie Boyle gives way more of a toss than most: http://t.co/6qcb52vovN

— Jason Arnopp (@JasonArnopp) June 2, 2015
Whatever your politics, you should read this superb comic writing from @frankieboyle - the Clegg simile is sublime https://t.co/l1FNfIdKC5

— Greg Jenner (@greg_jenner) June 2, 2015
Frankie Boyle can be toxic sometimes but he nails it here. "What if David Cameron is an Evil Genius". http://t.co/CL87Q3tpsJ

— mark haddon (@mark_haddon) June 2, 2015
A brilliant and hilarious piece by @frankieboyle on the "shrewd and malevolent psychopath" that is David Cameron: http://t.co/BvMzjnDQkr

— Kevin Peel (@kevpeel) June 2, 2015
He might not always be a right but @frankieboyle can certainly write - very amusing analysis of Cameron

June 2, 2015
As much as I dislike @frankieboyle this certainly made an interesting read http://t.co/YXWfMYwesp

— jess clayton (@jessclaayton) June 2, 2015
That Frankie Boyle piece: incredible writing yes, but also the whole thing is a massive wake-up call. http://t.co/VDmNb1ommm

— Jack Seale (@jackseale) June 2, 2015
absolute laughter-out-loud dark brilliance from @frankieboyle on David Cameron's evil genius http://t.co/JPHxGCBs7y

— Mhairi McFarlane (@MhairiMcF) June 2, 2015
Boyle's words have not always been so well-received.
The comic has caused controversy by joking about topics including, but not limited to, cerebral palsy, Down's syndrome, suicide, Jimmy Savile, Katie Price's disabled son, the Royal family and the Middle East conflict.