A Tesco employee from Dundee has started a fundraising page for her homeless friend, in order to find him a permanent home while he has open heart surgery.
American student Anna Loudon, who studies at Dundee University, told Buzzfeed News the story of how she became friends with a charming homeless man named Les Gordon.
Loudon recalls meeting Les Gordon in February: "It was cold and drizzly and as I walked towards him and the coffee I kept thinking that it wasn't a great weight for me to just buy this man a coffee. £2 that's all it was, and he could have a warm drink.
"So I stopped by and asked him if I could buy him a coffee and he said yes. When I gave him his coffee he thanked me about a dozen more times and I headed home."
@Tesco one of your employees - bought him a coffee & having a blether just along from the Tesco Metro in Dundee 😊👍🏼 pic.twitter.com/qywqrnpgol

— Erin Russell (@Erin31811) May 26, 2015
The two share regular meetings over a cup of coffee and have created a bond with one another.
"Les has been homeless for going on 10 months now," Loudon added, "and every time I get out of work if he's sitting outside Caffè Nero I will buy him a coffee and quite often sit out on the street with him. We've been having regular breakfast after I get off my shift for about four months now."
In April, Gordon revealed to Loudon that he would have to undergo open heart surgery. However, Gordon said that he would not have the surgery until he was able to find a home.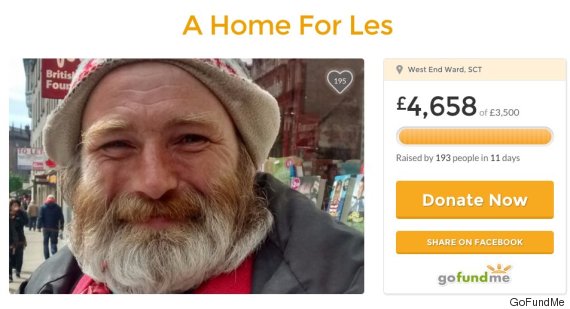 The GoFundMe page
This prompted Loudon to start up a fundraising page through GoFundMe in the hopes that people would donate in order to provide Gordon with sustainable shelter.
The GoFundMe page, called 'A Home for Les', describes Gordon as an "adorable sweetheart of a man".
"He is a native Dundonian who has become homeless through a serious of unfortunate events. He has been on the streets for at least 9 months and has endured harsh temperatures while sleeping rough. Unfortunately he has slipped through the cracks of the system."
Gordon is said to enjoy several hobbies such as reading, and "he never asks for money". Loudon included in the page the reasons why she wanted to help her friend: "Les and I drink coffee together in the morning and I feel that reaching out to the community might help him finally earn enough money to get a deposit for a flat and at least a couple of months rent so that he can finally have a roof over his head. Money that we raise for Les will go to a deposit on a flat, rent, utilities and any other expenses related to his living conditions."
Following the page's creation on 22 May 2015, Loudon has already raised £4,563. Donors have expressed how pleased they are to support Les and Anna in their journey, with donor Stephen Loughrey commenting: "Good luck actually getting up and doing something for another human being. Just goes to show there are still people like you out there."
Another donor, Norma Willis was pleased to see the help for the homeless, adding: "What a wonderful friendship".
An update was posted to the page thanking everyone for their ongoing support: "I would like to thank all of you who have donated and shared this page. I'm truly touched by the kindness and love that you all have shown."