Two of the teenage victims of the Alton Towers rollercoaster crash have been named.
Joe Pugh, a student at the University of Huddersfield, and his girlfriend Leah Washington, were injured in yesterday's incident.
Some reports, including the Telegraph and Mail, suggested that one victim might have lost a leg.
The other 12 occupants - six men and six women - required medical treatment, including a man in his 20s who suffered neck and abdominal injuries.
Alton Towers guests posted bloody images of the scene on social media yesterday after two carriages crashed on a section of the 50mph ride.
A statement today from the park said that it would remain closed tomorrow while investigations continue.
Nick Varney, Chief Executive of Merlin Entertainments, owners of Alton Towers Resort: "This has been a terrible incident and a devastating day for everyone here. We have a very strong record of safe operation of our rides here at Alton Towers and it is our priority.
"I would like to express my sincerest regret and apology to everyone who suffered injury and distress today and to their families. I would like to thank the emergency services and my own teams for their swift and effective response yesterday – they were outstanding.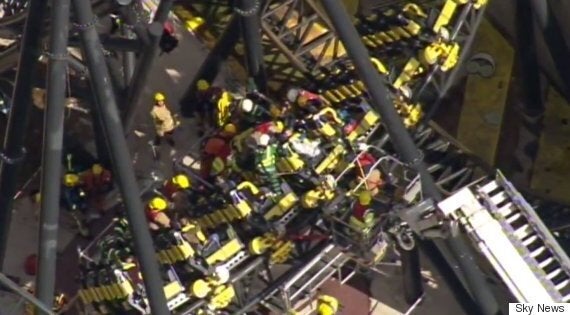 Emergency services working yesterday evening to free trapped passengers
"A full investigation is now underway and we will continue to work closely with the emergency services and the Health and Safety Executive to better understand the cause of this terrible accident."
Following the accident, Merlin Entertainments was the biggest faller on the FTSE 100, with shares down 3%.
The firm, based in Poole, has run Alton Towers since buying out previous owner the Tussauds Group in May 2007.