An embarrassed BBC has been forced to apologise after a journalist at the corporation tweeted the demise of the Queen, and then claimed that her phone had been hacked in a "silly prank".
Among a series of tweets, Ahmen Khawaja posted: "BREAKING: Queen Elizabeth is being treated at King Edward 7th Hospital in London. Statement due shortly: @BBCWorld."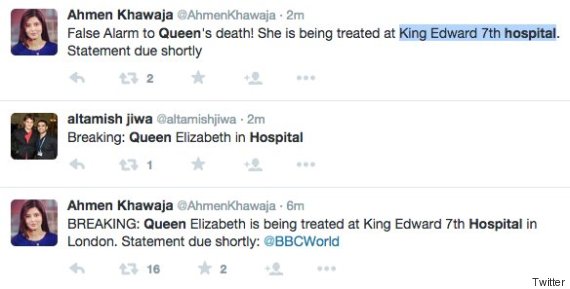 Her Majesty is in fact very much alive and well and the BBC World broadcast journalist was forced to backtrack, quickly deleting the tweets in question, claiming that she had been pranked after leaving her phone at home.
False Alarm: Have deleted previous tweets!!

— Ahmen Khawaja (@AhmenKhawaja) June 3, 2015
phone left unattended at home. Silly prank, Apologies for upsetting anyone!

— Ahmen Khawaja (@AhmenKhawaja) June 3, 2015
But Khawaja's 'silly prank' explanation was also soon deleted, creating confusion over the true cause of the social media nightmare.
A BBC statement soon shed light on the cause of the error, claiming the tweet was sent during "obituary rehearsals", but that only created further difficulties for Khawaja, who produces news bulletins for BBC Urdu, by contradicting her own explanation.
The statement said: "During a technical rehearsal for an obituary, tweets were mistakenly sent from the account of a BBC journalist saying that a member of the royal family had been taken ill.
"The tweets were swiftly deleted and we apologise for any offence."
SEE ALSO: BBC's Jim Naughtie Apologises After Caitlyn Jenner Gender Blunder
Meanwhile Buckingham Palace was forced to confirm the Queen had coincidentally attended hospital for a "routine" and "pre-scheduled" annual check-up, but was not ill.
A spokesman said: "I can confirm that the Queen this morning attended her annual medical check-up at the King Edward VII's Hospital in London.
"This was a routine, pre-scheduled appointment, the Queen has now left hospital."
Glad to report the Queen has not died and is not in hospital as accidentally reported by some hapless BBC journalist!

— phil dampier (@phildampier) June 3, 2015
But it was too late for some, with the story already growing legs and being reported elsewhere.
+++EILMELDUNG+++ Die Queen liegt im Krankenhaus. Gleich mehr auf BILD.de pic.twitter.com/8iUQgLqk9I

— BILD (@BILD) June 3, 2015
Queen nicht im Krankenhaus. Buckingham Palast gibt bekannt, dass die Nachricht falsch ist.

— BILD (@BILD) June 3, 2015

Regardless of the cause, Khawaja original excuse was questioned.
Seriously? Who in your house thinks that is just a "silly prank?? https://t.co/79pHB8eWef

— Steve Lindsay CBS (@SteveLindsayCBS) June 3, 2015
The BBC journo who tweeted that the Queen was in hospital says it was a "silly prank". Phew. Newsroom panic over. https://t.co/wYjf2Gfq9F

— Anna Stewart (@annastewartcnn) June 3, 2015
Congratulations on your future appearance in Private Eye https://t.co/qbZmACkX4J

— David Wyllie (@journodave) June 3, 2015
Gosh. BBC reporter @AhmenKhawaja erroneously tweets that the Queen is in hospital. Quickly deleted and labelled prank pic.twitter.com/PUVXphq9GD

— Ayes To The Right (@ayesright) June 3, 2015
Whatever the real reason behind the tweet it's safe to say Wednesday will be a very rough day for Khawaja.
The Queen is NOT in hospital. Awkward for @AhmenKhawaja... RT "phone left unattended at home. Silly prank, Apologies for upsetting anyone!"

— David Wilkinson (@DWilkinsonCNN) June 3, 2015
Someone isn't very impressed with Twitter right now. pic.twitter.com/Iu4XP2ELQj

— Asa Bennett (@asabenn) June 3, 2015
And the gaffes didn't stop there...
The Telegraph report on inaccurate reporting by tagging the Queen's parody account @Queen_UK. pic.twitter.com/gxmyrQNBsb

— Jamie Ross (@JamieRoss7) June 3, 2015