The 2010 World Cup was held in South Africa because Fifa rigged the vote on where to stage it, the latest allegations against football's world governing authority say.
The Sunday Times claims (£) to have filmed a member of Fifa's executive committee, who took part in the vote, admitting Morocco actually won the vote but it was rigged to go to South Africa.
Ismail Bhamjee allegedly said he and colleagues discussed what happened after the secret ballot.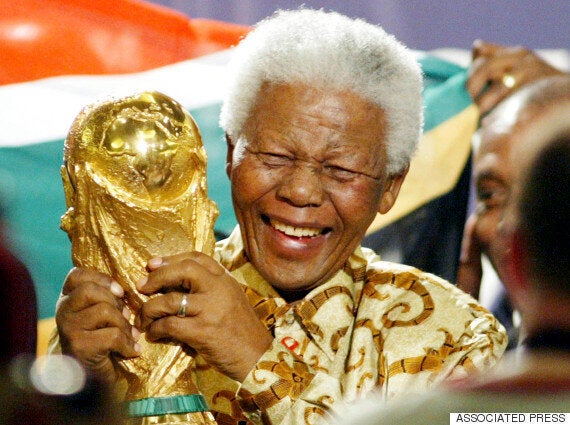 Nelson Mandela holds the trophy in May 2004, after Fifa's executive committee announced South Africa would be the first African nation to host the World Cup
"After talking with everybody . . . Whose votes went where? We're all colleagues, you know. And then we found out that actually Morocco won by two votes," he said, according to the paper.
Claims have also been made that former vice-president Jack Warner was paid $10 million to vote for South Africa.
The BBC is reporting the money was sent by Fifa to accounts controlled by Warner, on South Africa's behalf, to pay for its Caribbean diaspora legacy programme.
But the broadcaster claims to have documents showing Warner, who was among those arrested and charged by US prosecutors over corruption, using the money himself.
Warner denies any wrongdoing.
It said: "We categorically deny that [the money for the Caribbean diaspora] was a bribe in return for a vote. It belittles the hard work done by Madiba [Nelson Mandela], Archbishop Tutu, the South African Government and numerous others who sacrificed their time and money and family lives to make our country proud! It tarnishes their images in the most unscrupulous manner.
"Fifa Executive Committee Members who voted for South Africa in 2004 and who were interviewed by the media at the time all indicated that the tipping point for their support came as a direct result of Madiba's appeal to them as well as the strength of the South African bid."
Related