Protestors staged a huge 'die-in' in Camberwell on Monday night following the death of yet another cyclist on London's roads.
Scores of cyclists lay down on the road with their bikes in memory of Esther Hartsilver, who died on May 29 after being struck by a lorry in Denmark Hill while travelling to work, the Independent reported.
The 32-year-old physiotherapist was the 41st person to die while cycling in the UK this year, and the sixth in London. All of the London deaths involved lorries.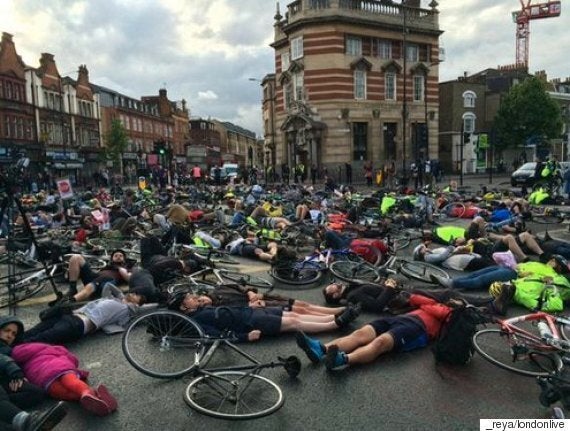 Speaking at the event, Hartsilver's eldest sister Sally Mortleman told the assembled protestors to "treasure your lives and keep on cycling".
According to the Evening Standard, Nicola Branch, co-organiser of the Stop Killing Cyclists pressure group, said: "Tonight's emotional die-in, which included the cyclist's family and friends, sends a loud message to Southwark Council that it must urgently install protected cycle lanes and protected left hand turns at junctions across the borough."
Peter John, leader of Southwark Council, was quoted in the newspaper as saying: "Our sincerest sympathies are with the family and friends of Miss Hartsilver. We want to make cycling safer for everyone in Southwark, which is one of the reasons why we plan to invest millions of pounds in cycling over the next five years.
"It is too early to speculate on the events surrounding the tragic death of Ms Hartsilver but the council is speaking with TfL about a number of changes to the Camberwell network and we will be working with TfL, who we need to agree any decisions.
"In addition to this, last year I proposed a London-wide ban on HGVs during rush hour to protect cyclists, and following the tragic death of Esther Hartsilver the case for such a ban remains strong. I will be writing to the Mayor of London this week asking him to look at this with us urgently."
A separate vigil was also held for Hartsilver last week, in which more than 200 of her friends and family ran from Shoreditch to City Hall in her memory.
Many took to Twitter to show their support for the protest.
Despite this, a TfL survey published earlier this month showed that the number of cyclists killed and seriously injured in London fell to 432 last year – a drop of 12% on 2013, which was itself 27% down on the year before.
The decrease comes as the number of cyclists in the capital increased by 11% last year.