The five things you need to know on Tuesday June 9, 2015...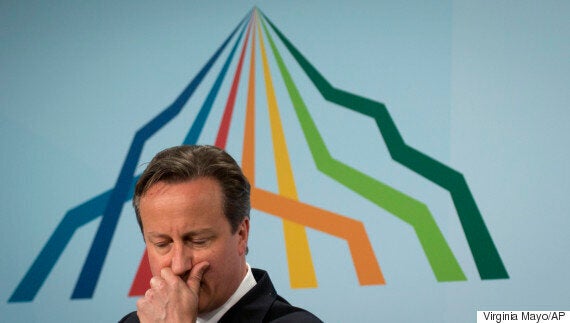 David Cameron chairs what could be an uneasy Cabinet meeting at 9.30am. But it would have been a heck of a lot more awkward if he'd not yesterday U-turned on his threat to force ministers to quit for backing Brexit.
Not surprisingly, the PM gets a bucket of doo-doo over his head in the morning papers. I won't go over the he-said, she-said exchanges from the G7, save to say that I've never before heard a Prime Minister plead with the media: "If you're not certain about something I said....ask. And we'll happily make it clear"
It may well be that the PM did indeed simply mishear or misread the question put to him (about a referendum campaign period, not the renegotiation period). But although he had a lot on his plate at the G7, the PM has a habit of misspeaking when abroad. And for someone who preaches that business and individuals need to show more 'responsibility', it's strange that he tried to avoid responsibility for this blunder. Blaming Andrew Marr for interrupting him was perhaps the oddest 'dog ate my homework' excuse yesterday.
What really surprised Cabinet colleagues was the PM's Sunday night words (and James Wharton's Downing-Street briefed follow up) jarred with the smoke signals coming from Cameron himself, suggesting he would be flexible on the issue. At Cabinet two weeks ago, IDS raised the issue of whether ministers could seek to leave the EU and was given a "deliberately ambiguous" answer by Cameron. Those present felt it was left open that he could campaign to leave and keep his job.
And yet the PM's most striking line to my ears yesterday was his ultimate backstop position that collective responsibility may have to apply - even after the renegotiation. "I don't believe the government is a bystander in this. The government will have a clear view." He's either just scaring junior ministers into line or leaving as a bargaining chip the possibility that he could relent and allow a free-speech line.
What really changed things yesterday was not so much the backlash from David Davis, but the 8.30am meeting hosted in No.10 by George Osborne when the damage became clear. Messages from people like John Hayes and Graham Brady were more chilling than those from DD and co.
The Times has a nice angle that Philip Hammond - a robust Eurosceptic himself - has been drafted in by No10 to get more Tory MPs involved in the renegotiation. We are bound to get more clues at 11.30am with the first Foreign Office Questions of the Parliament.
The EU Referendum Bill second reading then offers yet more outlets for backbench opinion.
THREE IS THE MAGIC NUMBER
Nominations for the Labour leadership formally open today and the hot news is that Liz Kendall has joined Andy Burnham and Yvette Cooper on the ballot paper. Kendall passed the magic 35 figure overnight with Gloria de Piero backing her. In the Mirror, Gloria sums up the main Kendall pitch: "We need someone from the new generation of Labour MPs to be making the case for change in the Labour Party. "Liz is asking the really tough questions that we need to ask. She's recognised the scale of the defeat, that we lost and lost badly."
This morning, I can add, Kendall actually now has 37 MPs on board (just four behind Cooper), with two former trade unionists coming out for her. Julie Elliott MP, a former regional organiser for the GMB, and Tom Blenkinsop MP, who worked for Community trade union, echo Kendall's line that unions have to modernise to reach into the private sector. "We are looking forward to working with her to help unions increase their reach into workplaces that have been under-represented for too long." Given that all the candidates face the GMB's hustings in Ireland today, it's valuable ammo to head off the charge that she's 'anti-union'.
Yesterday's PLP hustings didn't seem to change many minds, but it did clarify a few of their positions, not least on the EU referendum tactics. Read my summary HERE. Cooper this morning won the support of Jon Ashworth, one of five to back her after the hustings.
I see that Hilary Benn has today ruled out joining the Conservatives in an "In" campaign. He tells the Mirror Labour "made a disastrous error by sharing a platform with the Tories in the run-up to last year's Scottish referendum". Kendall yesterday warned MPs that boycotting a wider EU Yes campaign would be a 'profound mistake'
As for Jeremy Corbyn, although he and Mary Creagh look like they have just 12 nominations each, I hear he is very confident indeed of getting on the ballot. Word is that he already has 30 MPs signed up (and he could get some 'charity nominations' next week). Corybn meanwhile has been attacking UKIP (see below).
After 8.30am, Tristram Hunt will tell the Today prog of how Ed Miliband appeared uninterested in schools policy and muddled his priorities with the tuition fees cut.
STURGEON IN THE HOUSE OF STEWART
Nicola Sturgeon has been making her debut on Jon Stewart's The Daily Show over in New York. She met his badinage with badinage of her own. Here's one example of the exchanges, focusing on North Sea oil:
https://www.huffingtonpost.co.uk/2015/06/08/nicola-sturgeon-the-daily-show-with-jon-stewart_n_7540298.html?utm_hp_ref=uk
"You have oil?" Stewart asked with incredulity. "May we invade you?"
"This is progress," replied Sturgeon. "Jon has just asked, presumably on behalf of the United States, permission to invade an oil-producing country. It usually doesn't happen that way."
BECAUSE YOU READ THIS FAR...
Watch Jeremy Corbyn tell Newsnight that voters were driven into the arms of UKIP by either racism or desperation.
Some MPs mutter that the deputy Labour leadership race is the battle of the 'seven dwarves', but things have got interesting of late. Alan Johnson has backed Ben Bradshaw (let's see if AJ backs anyone for leader), Stella Creasy has revealed her love of Taylor Swift, Tom Watson has some JK Rowling cash.
In an interview with The Huffington Post UK, Angela Eagle says that it's not 'rocket science' that Labour needs to target voters lost to the Tories. She also lashes out at the '35% strategy' of 'cobbling together' an alliance of disaffected Lib Dems and Greens.
"We did not get Tory/Labour switchers and the plain fact is that to win an election in 2020 we need people who voted Conservative last time. It's as simple as that....None of this is rocket science. It's about being to speak to the worries and concerns that people have."
In the Indy, John Healey comes up with a crunchy policy offer that I'm amazed Labour hasn't targeted in the past five years: how to save cash from the billions spent handing over taxpayers' money to private landlords in the form of housing benefit. Money saved could be used to build more homes and cut the welfare bill.
COMING OVER HERE, SAVING OUR NHS
The FT has a story warning that David Cameron's 7-day NHS dream will have to rely on foreign labour. It quotes ManpowerGroup saying the government will fail to meet its target to recruit 5,000 new GPs unless it changes immigration rules to recruit more doctors from overseas.
The recruitment specialists said that even if the number of medical school graduates doubled, the PM would still fall short of his goal to recruit more GPs and make surgeries stay open seven days a week.
The government's Migration Advisory Committee has blocked NHS attempts to recruit GPs from outside the EU. It announced in February that there was no shortage of medical students in the UK and that, as a result, GPs would not be added to a list of so-called "shortage occupations" that can recruit specialist staff from outside Europe. But with the Royal College of General Practitioners warning 6 per cent of the 8,000 surgeries in England faced closure within the next year because of a shortage of doctors, it looks like the DH has - as with nursing and midwifery places - got to do more on its training system.
It's come a few weeks too late for the Cabinet reshuffle but Grant Shapps can feel vindicated this morning as several papers pick up on Guido's story yesterday that his Wikipedia tormentor is to be reprimanded.
Richard Symonds has been accused of multiple violations of the online encyclopaedia's policies by a committee of his peers. Before the election, he suspended a Wikipedia account, Contribsx, after reporting that it had edited Mr Shapps' biography, "removing criticism". Symonds had said that there was "a wealth of evidence" to link Contribsx to an earlier account linked to Mr Shapps' constituency office.
A Wikipedia arbitration committee said in a draft ruling that no evidence had been presented connecting the account with any individual. The committee voted to revoke certain of Mr Symonds' powers as a senior editor.
The EU referendum bill second reading has two amendments on the Order Paper. The first is a bid by the SNP to reject the bill, the second is from the Lib Dems insisting on votes for 16 and 17 year-olds. Labour won't back the first amendment, but could they send a signal and back the second? They may prefer to wait.
One curio yesterday was how the Treasury managed to get its cuts figures so wrong last week for Scotland (and Wales). John Swinney is threatening tax rises but we have to ask if HMT know how Barnett formula gearing really works?
I'd be surprised if some enterprising backbencher/frontbencher doesn't lob in an Urgent Question on the chaos with the new DVLA paper-free licences. With holidaymakers furious at delays to care hire, ministers won't want a passport agency-style summer headache.
Nicola Sturgeon will travel to Washington for engagements at the World Bank, the International Monetary Fund, the US Holocaust Museum and the Council on Foreign Relations.
HSBC's plans to cut 8,000 jobs in the UK could be raised in Parliament today too. Will the Chancellor do anything to stop the bank pulling its HQ from London later this year?
The Indy says a new report is out today revealing a surge in prison suicides among those in solitary confinement. One inmate hanged himself after being a book by prison officers.
If you're reading this on the web, sign-up HERE to get the WaughZone delivered to your inbox.
Got something you want to share? Please send any stories/tips/quotes/pix/plugs/gossip to Paul Waugh (paul.waugh@huffingtonpost.com), Ned Simons (ned.simons@huffingtonpost.com), Graeme Demianyk (graeme.demianyk@huffingtonpost.com) and Owen Bennett (owen.bennett@huffingtonpost.com)
Popular in the Community