A judge at Belfast County Court ruled that Ashers Baking Company acted unlawfully by declining an order from gay rights activist Gareth Lee last year.
Mr Lee, a member of the LGBT advocacy group Queer Space, wanted a cake featuring Sesame Street puppets Bert and Ernie with the slogan Support Gay Marriage.
Lawyers have agreed to test whether the judge was correct as a matter of law to hold that the bakery had discriminated against Mr Lee directly on grounds of sexual orientation, a lobby group supporting Ashers said.
They will also challenge whether district judge Isobel Brownlie was correct as a matter of law to hold that Ashers discriminated against Mr Lee directly on grounds of religious belief or political opinion.
In papers lodged in court earlier this week lawyers for Ashers said: "We have identified the broad points of law with which the applicant is dissatisfied."
The cake was ordered for a private function in Bangor, Co Down, to mark International Anti Homophobia Day last May.
Mr Lee, who paid in full when placing the order at Ashers' Belfast branch, said he was left feeling like a lesser person when he was told his request could not be fulfilled.
The publicly-funded Northern Ireland Equality Commission, which has a statutory duty to monitor anti-discrimination laws, brought the legal action on his behalf.
Ashers, owned by the McArthur family, employs almost 80 people across six branches and delivers throughout the UK and Ireland.
The family said they opposed same-sex marriage on religious grounds and could not produce the cake with a message that was contrary to their deeply-held Christian beliefs.
District judge Brownlie found the bakers discriminated against Mr Lee on grounds of his sexual orientation and his political beliefs.
Ashers was ordered to pay agreed damages of £500.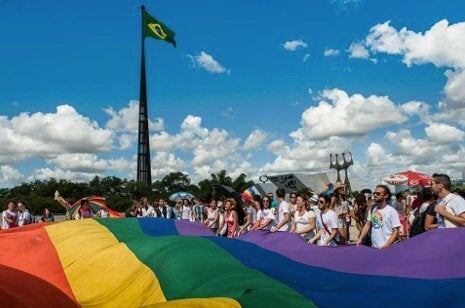 International Day Against Homophobia & Transphobia