A suicide bomb attack has hit a popular tourist site in the ancient Egyptian city of Luxor.
An explosion rocked the Temple of Karnak, in the east of the country, according to Sky News.
No news of casualties has emerged yet although Sky reported that a security source told the state news agency four Egyptians were wounded.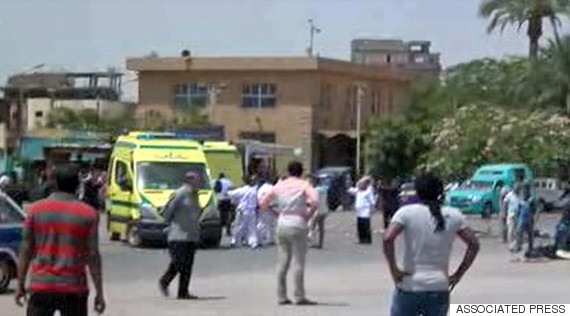 Security personnel and spectators gather at the scene of the suicide bombing
A spokesman for Egypt's health ministry said that the incident left two dead and five injured, although it is not known if those dead include the attackers themselves.
Breaking News:

MOH spokesperson: Two dead and five injured, including security and civilians in Luxor bombing. Injuries not serious.

— Mada Masr مدى مصر (@MadaMasr) June 10, 2015
According to the country's Interior Ministry, two of the attackers were killed and a third wounded.
Journalist Hasan Sari also tweeted that Egyptian security forces had defused a number of bombs in the area.
💥 MORE: #Egypt|ian security forces defused 3 bombs in the surrounding area of Karnak Temple in Luxor. #Egypt#terrorism"

— Hasan Sari (@HasanSari7) June 10, 2015
No group has yet claimed responsibility for the attack.
Last week two members of Egypts antiquities and tourism police were shot dead near the Pyramids of Giza, according to the BBC.
The Temple of Karnak second only to the iconic pyramids of Giza in terms of tourist numbers in Egypt and is the second largest religious site in the world after Cambodia's Angkor Wat, according to Al Jazeera.
SEE ALSO:
Egypt's tourism minister said that no damage was done to the temple itself in the attack.
The city was targeted in a terror attack in 1997 in which 68 people, mostly tourists, were killed when gunmen opened fire.
This latest incident will be a further blow to Egypt's tourist economy, which had been recovering following unrest in 2011.