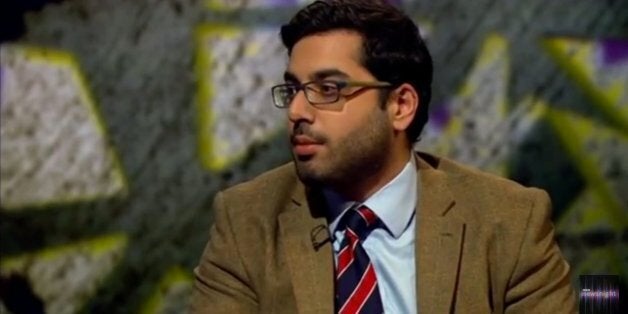 One of Nigel Farage's former closest advisers has said Ukip's only MP, Douglas Carswell, does not "fit" into the party.
In an interview on BBC Newsnight on Wednesday evening, Raheem Kassam, who served as Farage's chief-of-staff and ran his failed bid to be elected MP for South Thanet, conceded mistakes were made in Ukip's election campaign.
He was also asked by presenter Emily Maitlis to explain what a "proper fucking lunch" with Farage involved.
Kassam left his job in the party amid Ukip's bitter post-election infighting that saw Carswell, deputy chairman Suzanne Evans and economics spokesman Patrick O'Flynn stand accused of plotting a coup against Farage.
Kassam's appearance on Newsnight came shortly after an interview he gave to The Guardian was published. In the article he described Ukip's central-London HQ as "like a fucking playground". It was a place, he said, that when journalists visited, he often had to "lock certain doors because the people behind those doors were too embarrassing to be seen".
Despite Ukip predictions that the party would be sending a sizeable number of MPs to Westminster at the election, Carswell ended up being the only one elected.
But Kassam questioned whether the former Tory MP belonged in Ukip. "There's no doubt Douglas is a very intelligent man," he said. "I just don't think he fits into a political party.
"I think he sees Ukip as being an independent. Whereas actually the way to be independent is to sit as as an independent MP.
He added: "I don't think he is willing to play the sort of push and pull you have to in a political party. I don't think he's really managed to fit in anywhere in Ukip."
The former Ukip aide told The Guardian that he and Farage would enjoy "PFLs" or "proper fucking lunches" during the campaign. He told Maitlis it was a "Faragism" for a "three or four bottle lunch".
Asked whether this meant "two of you and four bottles", Kassam said it meant "four of us and eight".
Kassam, who moved to South Thanet during the election to help Farage win the seat, admitted the party had made mistakes. There was, he said, a "lot of unnecessary travelling at the beginning of the campaign", which Farage could not deal with as he had severe back pain.