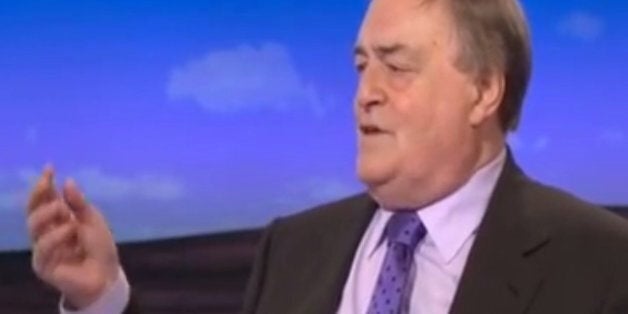 David Miliband should "shut up", Labour's former deputy prime minister John Prescott has said - in his characteristically blunt manner.
Prescott also said Tony Blair's former spinner Alastair Campbell should "stay at home" rather than commenting on the current Labour leadership race.
And he criticised Labour leadership candidate Liz Kendall for not having enough experience to succeed Ed Miliband in the party's top job. Prescott has backed Andy Burnham for the leadership and Stella Creasy for the deputy leadership.
Speaking to Andrew Neil on the BBC's Daily Politics programme on Thursday, Prescott was asked about David Miliband's recent criticism of his brother Ed's election campaign.
Prescott said: "He should shut up, look we have gone through that period. The Miliband period has gone. We are not looking to a period where he emerges as another Miliband interpretation. I don't think thats possible."
He added: "Look David, get on with your international job, don't come over here telling us what to do."
David Miliband has made several less than complimentary remarks about his brother's leadership of Labour since the party lost the election last month. Earlier this week the former foreign secretary, who lives in New York, said Ed had taken the party "backwards". He also said it would have defied "political gravity" for Labour to win given his brother's policy platform.
During his appearance on the BBC today, Prescott also Campbell to be quiet. "Alastair should know better. What does he mean? He's going to tell us whether it's alright in three years? It's going to take us more than three years to get this party back into shape, win the election and the trust. Does he then come in on these arguments and say 'you've not satisfied my task and I'm now going to attack you?' Come on. Stay at home Alastair," he said.
In an article for The Times today, Campbell said he would try to oust the new Labour leader in three years time if it looked as if Labour was heading for defeat in 2020. "I will not bite my tongue and I will encourage others not to bite their tongues. I will happily lead the charge to try to replace whoever is leader," he said.
Asked about the Labour leadership election, Prescott said the field was "too limited" and there should be a "a big debate" within the party. He did not name Kendall, but in comments directed at her, he said it was not a good idea to have parliamentary "researchers running for leader in four years".
He said: "I know it's one nation, it's a new party, it's a young party, but for God's sake. I don't think that's the way it should go. But the party picked them."
Prescott's comments did not go too well with all Labour MPs who had been watching the programme.