The new Arsenal kit has been unveiled for the upcoming 2015/16 Premier League season with a huge launch outside The Emirates Stadium.
Complete with fireworks, hundreds of fans and even Arsenal legend Thierry Henry, the new strip was unveiled with similar fanfare to a Hollywood film premiere.
Modelled by Hector Bellerin, Tomas Rosicky, Santi Cazorla, Danny Welbeck and Nacho Monreal, the new Puma strip sticks with traditional red and white shirt and sleeves, with a thin gold trim on the grandad style collar and is also apparently 'powered by fans'.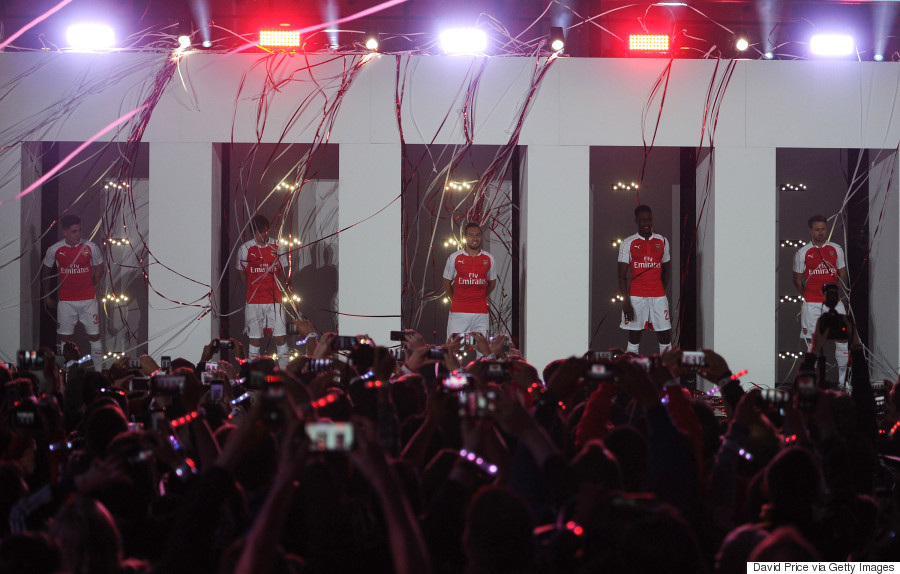 Hector Bellerin, Tomas Rosicky, Santi Cazorla, Danny Welbeck and Nacho Monreal of Arsenal at the Arsenal Puma Home kit Launch at Emirates Stadium.
Speaking to Arsenal.com, Santi Cazorla said: "Our fans are incredible and play a really big role in our performance and motivation. Being at the Emirates this evening and seeing so many of them chanting and supporting us was really great. There was so much passion in the crowd, it reminds us how lucky we are to have these supporters. The kit has a lovely design, classic like an Arsenal kit should be with some very nice design features."
New Premier League 2015/16 Football Kits: Strips 'Revealed' On Twitter
This is Arsenal's second year into a rumoured £150m five-year deal with Puma after the German sportswear giants replaced Nike, who supplied Arsenal's kit since 1994.
Twitter has been awash with rumours since the end of the season as fans go into overdrive every time a new kit is leaked on the internet.
Arsenal finished their season on a high, finishing third in the Premier League, qualifying for the Champions League and wining the FA Cup for the second year in a row.