A certain section of the internet has been in uproar over the weekend after it was revealed a waterpark in Stoke-on-Trent is to ban bikinis and enforce the wearing of 'Islamically appropriate' clothes.
UK waterpark bans bikinis and orders visitors to wear 'Islamically appropriate' clothes http://t.co/Jf4rGzhDJI pic.twitter.com/1cwCvmdCXA

— Daily Express (@Daily_Express) June 14, 2015
The headline provoked a torrent of disgust...
@Daily_Express @EricJWest so Anders Brevik wasn't wrong about the Islamification of Europe? Who knew. ...

— EV (@E_Piscator) June 14, 2015
Cheeky bastards this country is NOT Muslim it's OUR country they should observe OUR laws not the other way round what!!!!!!

— june schofield (@schoey1) June 14, 2015
@Daily_Express feckin hell. Couldn't make this shit up.

— J.B. Mee (@JonjoBypass) June 14, 2015
@Daily_Express this is bollocks ! What is this place uk coming to ? Let these scum walk all over us and demand there "rights" in our country

— luke harris (@lukeh9592) June 14, 2015
@Reggiemandalay @Daily_Express People have to fight back against the islamification of their country!

— Infidel Angel (@SharonUren) June 14, 2015
The article goes on the outline that "only female lifeguards will patrol the park" and staff will guard the entrances to make sure no males enter.
But anyone who read further than the headline would have realised the dress-code applies for one-night only when the park has been hired out by a group of woman who are funding the event themselves.
Further, the session is being held outside of normal opening hours meaning regular visitors would not in any way be affected.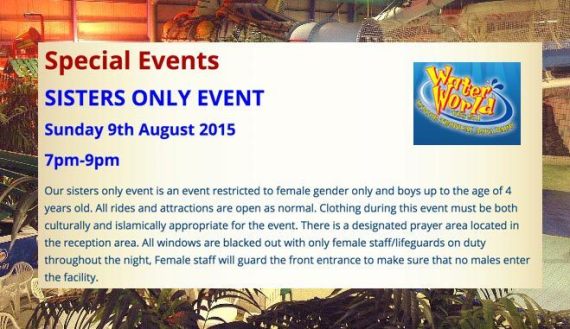 There is also no mention of burkas despite the picture accompanying the Express article.
@Daily_Express your reporting of this is very inaccurate! It's a one off even meaning women usually unable to use the pool can use it!

— CAROL DIXON (@nickiH01) June 14, 2015
@Daily_Express you complete buffons. The advert on their website says nothing about Islam or burkas. Stirring up needless racial hatred

— Darren Doherty (@DarrenDoherty83) June 14, 2015
A WaterWorld statement said: "We pride ourselves in having the adaptability and diversity to cater to demands of our guests.
"This is a female-only event and is not specific to any ethnic or religious group."
SEE ALSO

Daily Mail Commenters Can't Wait To Have Their Say On This Dewsbury Story

The BBC And Daily Mail Just Won't Let Their Funding Feud Lie

This 'Drivel' Report On Domestic Violence Has The Mail And Express Seething