Rolf Harris' victims are calling for him to be denied parole after the paedophile reportedly wrote a song behind bars mocking them as money-grabbing "woodworms".
In a letter obtained by the Mail on Sunday, the disgraced entertainer said his victims were "joining the feeding frenzy" by getting their "hooks into his dough". He added further insult by claiming his life behind bars was "no hardship really."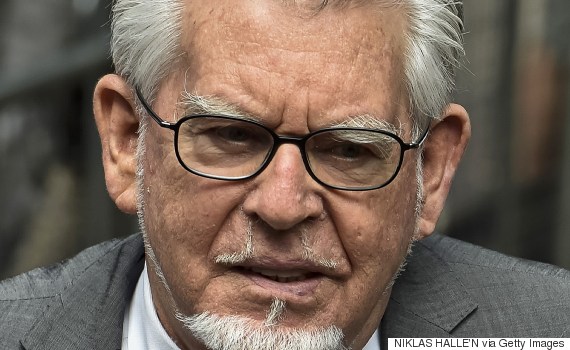 Rolf Harris' victims have called for him to be denied parole, saying the song he wrote from prison shows he has no remorse for his actions
The song sparked outrage among Harris' victims who say it shows the criminal has taken no responsibility for the harm he has caused. One victim, Wendy Wild, penned a song in reply.
According to the Daily Mirror, Ms Wild, who was groped by Harris when she asked for his autograph age seven, wrote: "You chose me, remember, 40 years ago, you put your dirty hands on me and have not let me go.
"Now you are complaining through the papers, whinging you are innocent, from your cushy Jail. I still live with the nightmare of your dirty act while all you seem to care about is your millions staying intact."
The song goes on to reference the private investigators Harris has hired to look into his victims as part of a civil lawsuit against them, an action Ms Wild says is "filling my head with dread".
Ms Wild ends her song with the line, "you're just a sex offender. Now put that in a song and sing it".
Story continues below
Fellow victim Karen Gardner, who was abused by Harris at 16, told Radio 4's Today programme that she has the song stuck in her head.
She said: "I read it once. I never want to read it again. Sadly I won't need to as it's stuck in my head now."
Ms Gardner, who is now a BBC reporter, said while Harris' wrote in his song that the victims had come out of "30-40 years ago", his crimes had never left her: "I can still remember his aftershave smelt of spice, his breath of menthol, that his hands were so sweaty they stained my jeans."
She said Harris was a "typical" sex offender, in that he did not take responsibility for his actions, and should serve his full term: "If He gets out before the end of his sentence how do we ever feel that society is looking after us?"
Victims' lawyer Liz Dux said the lyrics in Harris' song were "revolting" and had left one victim "totally distraught". She said the letter should be considered when Harris applies for release.
She told the BBC: "It should certainly affect the way he's treated when he applies for early release - he hasn't understood (the) severity of his crimes."
Dux is also reported as saying: "I strongly urge that this man is denied the right to apply for parole.
"And if he is allowed to apply, I sincerely hope this letter is taken into account and he is made to serve his full sentence."
Dux told BBC Radio 4: "The whole point of parole is for people to show some sort of remorse and understanding of their actions when they return into society and here is someone who is clearly behaving as he was before, with complete disdain and an attitude that he can behave how he wants."
Harris' song has predictably been met with disbelief:
Rolf Harris faces the victim's music: You're a sex offender - put THAT in a song http://t.co/AJvhQBnZvtpic.twitter.com/9USAjI4vDk"

— Donald Williams (@donsview) June 15, 2015
Rolf Harris is vile.To come out and say prison isn't hard he's doing what he likes then writes vile songs? Doesn't deserve his life.

— • (@TylerLFC_) June 15, 2015
Rolf Harris, what a horrid horrid man!

— Kate Walker (@KateWalker5) June 15, 2015
Rolf Harris written a song from behind bars, can't believe I'm hearing this. Has called his victims woodworm, what a vile creature!

— Richard King (@rkingauthor) June 15, 2015
Rolf Harris pens a song calling his victims money grabbers. Well your mate, who you wrote the letter to, sold it to the Daily Mail. Gutted

— Annie (@bythefalseazure) June 15, 2015
Although perhaps in reflection of the battle Harris' victims have faced, some users couldn't help making bad-taste jokes.
Rolf Harris. Make people hate you even more by automatically putting your new song on their itunes for free.

June 15, 2015
Just read the lyrics to that Rolf Harris song everyone's going tits about. Have to say I prefer his older stuff like Jake the Peg and that

— Grant Hill (@GrantH1979) June 15, 2015
Harris, 85, was sentenced to six years jail last year for a string of sex attacks on girls as young as seven.
His letter was reportedly sent from Stafford prison to a friend, who handed it to the newspaper.
One line of the song, which Harris says he would like to set to country rock music, reads: "Perhaps you believe you're pretty still, some perfumed sultry wench?"
Other lines say: "Make him burn, get your 50-year-old hooks into his dough.
"Make him burn, burn, burn. Come and join the feeding frenzy, girls."
Last month the Crown Prosecution Service was reportedly handed a "full file" of evidence about further allegations against Harris.
He was unmasked as a predatory paedophile when he was found guilty of 12 indecent assaults, at London's Southwark Crown Court last July.
Sentencing judge Mr Justice Sweeney said Harris showed no remorse for his crimes.
He said: ''Your reputation lies in ruins, you have been stripped of your honours, but you have no one to blame but yourself.''
SEE ALSO:

Rolf Harris Defended As 'Kind, Sweet, Honest'

More Allegations Against Harris Have Surfaced...

Queen Strips Rolf Harris Of Honours - How Different Things Were 10 Years Ago..
Harris was unanimously found guilty of molesting four girls.
The veteran presenter, who charmed television audiences for decades, was also convicted of a catalogue of abuse against another young victim, who prosecutors said Harris groomed from the age of 13 and used like ''his little toy''.
The accusations dated between 1968 and 1986, and the girls were targeted between the ages of seven or eight and 19. Harris had his CBE annulled at the order of the Queen following his conviction.