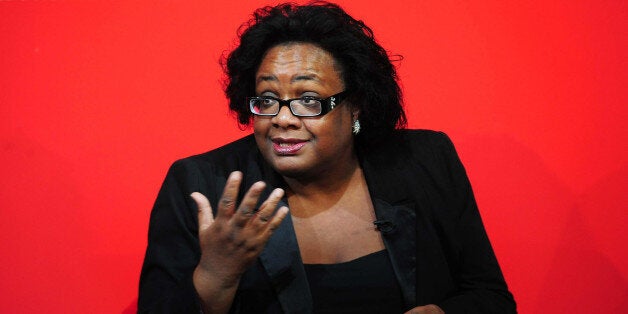 Diane Abbott has warned that Blairite New Labour "ghouls" must not be allowed to take over the party.
The Hackney MP, who is standing to be Labour's candidate for mayor of London, said it would be a "tragedy" if a "party machine candidate" was chosen to fight the Tories for City Hall next year.
Abbott is up against Tessa Jowell, Sadiq Khan, David Lammy, Gareth Thomas and Christian Wolmar. Zac Goldsmith is seen as most likely to secure the Conservative Party's nomination.
Abbott was speaking at a campaign meeting in central-London on Monday evening alongside Labour leadership candidate Jeremy Corbyn. The leftwinger made it onto the party's leadership ballot with just seconds to spare yesterday and was greeted with a standing ovation when he entered the room.
Abbott said she and Corbyn would lead the "fight back" against people who wanted to "reduce our party to little more than a pale imitation of the Conservatives".
The leadership race has also turned nasty, amid allegations the campaigns of Andy Burnham and Yvette Cooper were responsible for branding Liz Kendall part of the "New Labour Taliban". Kendall's campaign manager, Toby Perkins has written to Cooper and Burnham, to demand the "inappropriate and offensive" reference not be used again.
Following Labour's election defeat last month, senior party figures including veterans of the Tony Blair and Gordon Brown governments took to the airwaves to criticise Ed Miliband's leadership of the party.
Naming Peter Mandelson, Abbott said last night: "Within hours of Ed Miliband resigning there was these ghouls from the New Labour past on our TV sets. My goodness, it was like they couldn't even wait for Ed to resign."
"It couldn't be a more important summer of campaigning because what is at stake is nothing less than the future of our party," she said.
"Whatever was wrong with our general election campaign, it wasn't important policies like doing away with non-dom status, like freezing peoples fuel bills, like doing away with zero hour contracts. Those policies resonated with the electorate."
Abbott said her and Corbyn wanted to disprove the argument that it was impossible to "appeal to the British public on the basis of progressive and forward thinking policy".
"London is so important. Do not be fooled by pretend progressive candidates. Do not be fooled by candidates who have become progressive in the last few weeks.
"Were we to lose London to a Labour Party machine candidate, that would be not just a tragedy, it would be a set back for all the people who need a genuinely progressive Labour party.
Abbott said Labour leadership candidates and mayoral candidates who spoke about "aspiration" should focus on "lifting people up" rather than "pandering to the establishment and business".
The Hackney MP also hit out at an unnamed rival for writing an article in the Daily Express which apologised to Ukip voters for Labour having let "too many immigrants in". She said she would go "toe-to-toe" with people who "think if you pander to racism it goes away".
In March 2014, Sadiq Khan, then shadow justice secretary, wrote an article in the tabloid in which he told Ukip voters that Labour had been "too quick to dismiss concerns about immigration".
A YouGov poll for the Evening Standard published today suggested Jowell was leading the Labour race, with the backing of 23 per cent of Labour supporters. Khan was second with 20 per cent and Abbott and Lammy had nine per cent each.
Popular in the Community