The five things you need to know on Tuesday June 16, 2015...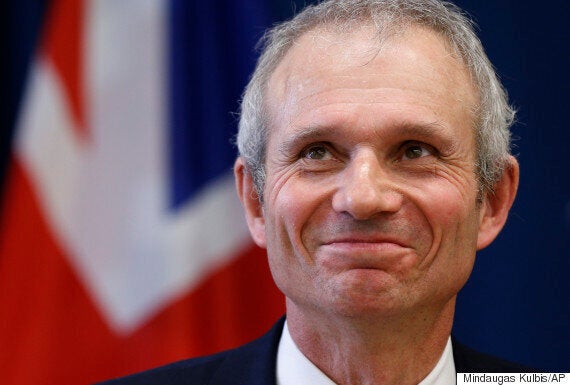 Eurosceptics are not easily fooled by Downing Street's tactical feints or retreats at the best of times. And this morning many are not wholly convinced that they should be dancing in the streets at No10's decision last night not to hold the EU referendum on May 5 next year. (which was never really a runner as a date anyway)
What's more interesting is just what form of words will be offered as a compromise on the vexed issue of Purdah being suspended in the run up to any referendum. Rather than mere verbal reassurance, the latest intel is that there will be written into the bill something to persuade backbenchers that Dave won't abuse public money or the power of Whitehall to influence the outcome of the poll. David Lidington, the Europe minister, has dealt with many a tricky negotiation in Brussels but this is proving one of his trickiest this side of the Channel. Cameron will retain flexibility, but just how much will Eurosceps accept?
Some hardliners wanted the PM to ram home his authority but wiser counsel seems to be prevailing. The whips are confident that they can contain any rebellion, though they know that a last minute switcheroo from Labour could be crucial. This morning when asked about the size of the rebellion, Bernard Jenkin told Today: "I've absolutely no idea... the numbers aren't the issue; the issue is the principle." "I think they've realised they've opened a bit of a Pandora's Box, they should be looking to resolve this...they can't back down on this amendment". Arch Euroscep Chris Grayling is certainly providing more reassurance to backbenchers than William Hague used to (some Tories felt he'd 'gone native' at the Brussels-friendly FCO).
Just as intriguing is the shape of the No and Yes campaigns. There's talk of Lynton Crosby being approached to run the PM's Yes effort, while Dom Cummings could get a senior role in the No camp. Would that leave Michael Gove stuck in the middle...?
As for matters European, watch the first Treasury Question to George Osborne today as David Hanson asks about the publication by the Bank of England of its secret assessments on the impact of Brexit.
THEY SAY CUTBACKS, SHE SAYS E-BACC
Nicky Morgan is keen to deliver some Gove-style reforming zeal without all the Gove-like image issues. There will be big battles to come over budget cuts to further education and pre-schoolers, but in her speech today the main focus is on secondary school standards. She is to redefine a 'good pass' in exams, up to a what used to be a high 'C' or low 'B', now known as a level five. Just as importantly, all pupils starting secondary this September will have to study the key EBacc subjects of English, maths, science, history or geography, and a language at GCSE. It's a deliberate bid to stop some schools entering pupils in exams in 'soft' subjects.
But what excites many papers is the appointment of a new behaviour 'czar', Tom Bennett, to help teachers crack down on low level classroom disruption. Bennett spent eight years working in nightclubs in Soho, including as a bouncer, all of which he says provided 'an obvious training ground in classroom management'. The making of silly comments and passing of notes in class will be targeted. Good job Bennett isn't monitoring the Commons chamber, eh?
There was a bit of low-level disruption to Education Questions yesterday as pop star Lionel Ritchie sat briefly in the public gallery alongside Blair's former fundraiser Lord Levy. He posed for a selfie with Carolyn Harris, the MP for Swansea East and then dropped in on Francis Maude's maiden in the Lords.
As for cutbacks, Newsnight last night claimed IDS has been asked to find not just £12bn in welfare savings, but £15bn. One to watch.
We had all better get used to seeing the four Labour leadership contenders appearing alongside each other, now that Jeremy Corbyn has joined Andy Burnham, Yvette Cooper and Liz Kendall on the ballot. Corbyn got a rousing reception last night at the Diane Abbott mayoral campaign launch.
The impact of Corbyn on the race was less of an issue (in a transferable vote system you can't 'split' the vote, as I've said before) than the backlash from the 'New Labour Taliban' remarks quoted in the Telegraph yesterday. Last night the Burnham camp told PoliticsHome that the Tony [Blair] Taliban was 'not a term we would ever use', while Yvette Cooper told me yesterday that 'It's not one I use'. Of course, those of us who have been around a bit have indeed heard the phrase used in Commons corridors by Labour MPs unhappy about some of the more diehard backers of Liz Kendall. I'm not sure it's worth a leak inquiry.
Still, Toby Perkins (a Kendall backer) wrote a letter last night to both the Burnham and Cooper camps saying how 'inappropriate and offensive' the term was. There is a theory, of course, that all these attacks on Kendall simply highlight her point of difference with the others - and for all his faults, Blair is still well regarded by many rank and file Labour members.
What's really fascinating in this race is the low number, so far, of trade unionists who've signed up as individuals: just 2,500 affiliates compared to the 41,000 who have joined as full party members since the election. And I'm told that the number who have joined as 'supporters' for £3 (among whom the Kendall camp hopes are members of the public determined to have a fresh start) is also higher than the new union members: 3,500. Both figures are lower than expected. Word is the unions are keeping back their real numbers to avoid bad publicity early in the election.
BECAUSE YOU'VE READ THIS FAR...
Watch Jeb Bush launch his Presidential bid. He railed against the 'Washington elite' (I think his brother did that once too) and spoke in Spanish for a bit. There is no mention of his surname in his 'Jeb!' logo. How long before General Boles mocks up a Jez! logo for Jeremy Corbyn...?
HuffPost's Howard Fineman analyses the Bush legacy on our US site HERE
Michelle Obama landed at Stansted last night as part of a short European tour to push her Let Girls Learn programme. She will visit Mulberry School for Girls in Whitechapel. It's part of an admirable global initiative (and she writes in the FT about the problems girls face i many countries), but will anyone point out that in the UK it's working class boys who underperform most these days? The PM, Sam Cam and Prince Harry will both meet her today too at No.10 (about 5pm).
Alongisde the First Lady taking questions from students at Mulberry School will be former Australian PM Julia Gillard, who knows a thing or two about being a high profile woman in politics. At one point, Gillard was even called 'deliberately barren' by opponents criticising the fact she wasn't a mother.
On Newsnight last night, Gillard reflected on how her own experience could be used to help other women such as Hillary Clinton - and even Labour leadership contenders such as Liz Kendall and Yvette Cooper:
"Looking back on my time as Prime Minister is that I assumed that the maximum reaction to being the first woman to lead Australia, both positive and negative, would be in the early days of my Prime Ministership and then it would wash out of the system and you'd just get on with the job. What I actually found was that the longer that I was Prime Minister, gendered insults became a very convenient weapon to go to when you were doing something politically controversial. So if I had my time again, I would actually call it out earlier in my period as Prime Minister....On gender issues it's best to confront them front up, if there is any differential treatment to deal with it in the early days rather than let it build"
Both publicly and behind the scenes, the lobbying for the select committee chairs intensifies today ahead of the big elections tomorrow. There are lots of battles in play (HuffPost had an nice early guide HERE), but today two of the more eye-catching names are blogging for us.
One of the most fascinating contests is between Sarah Wollaston and David Tredinnick for the Health Select Committee. Tredinnick has written in defence of his views of homeopathy, arguing against the 'hypocrisy' of some of his critics.
Richard Benyon, who's pitching for the Defence Select Committee, also declares the world is "more dangerous" than at any time since the Cuban missile crisis and the need for that 2% defence spending is more crucial than ever.
Inflation figures are out this morning, and analysts expect the negative number to turn slightly positive. George Osborne has his first ever Lib-Dem-free Treasury Questions at 11.30am, will he sing the praises of the departed, not least Danny Alexander? His replacement Greg Hands is a wit, so will we get a gag about rumours of a new ginger James Bond..?
The Pope's latest encyclical has been leaked to an Italian paper, and in it he becomes the first Pontiff to make climate change his priority, urging cuts in fossil fuels. Will he turn up in Lancashire to fight Cuadrilla?
Greece is playing hardball with Brussels. Germany's European Commissioner is calling for an 'Emergency Plan B' that would create a 'state of emergency' in Greece. Theresa May is in Luxembourg battling against EU plans to share out Med refugees.
The Mail reports that later today Rashida Manjoo, the UN special rapporteur on violence against women, will publish a report that cutbacks to funding are putting UK women more at risk of domestic violence.
West Yorkshire Police will give an update on the three women and nine children who are feared to have fled to join ISIL in Syria. The Mail has a photo from Dewsbury 'where even the ice cream lady wears a burka'.
If you're reading this on the web, sign-up HERE to get the WaughZone delivered to your inbox.
Got something you want to share? Please send any stories/tips/quotes/pix/plugs/gossip to Paul Waugh (paul.waugh@huffingtonpost.com), Ned Simons (ned.simons@huffingtonpost.com), Graeme Demianyk (graeme.demianyk@huffingtonpost.com) and Owen Bennett (owen.bennett@huffingtonpost.com)