Alec Baldwin's wife, Hilaria Baldwin recently gave birth to their second child, Rafael, and just two days later she posted a selfie showing her post-baby body.
The 30-year-old yoga instructor wrote that she had always been planning to share post-bump photos after giving birth, but didn't know if she would follow through.
She has now posted two photos of the #ShrinkingBaldwinBabyBump.
"Deep breath, here we go... all the way from my glamorous hospital bathroom #ShrinkingBaldwinBabyBump #NoShame #LoveYourBody."
Fans praised Baldwin on Instagram for being realistic and showing what her post-baby body is really like.
One person wrote: "Finally someone who doesn't just disappear for weeks after having a baby and then does a photo shoot as soon as possible with their magical after baby body."
Another added: "Lovely for you to celebrate what real women look like, such a nice tribute to new life and celebrating yourself and loving yourself. Congratulations to you both!"
However, the photo also sparked a debate over whether Baldwin had had a caeseran.
In response Baldwin posted a follow-up snap with a message stating that she was 'grateful for all the concern', as she knows the comments were "coming from a good place".
"This is for those of you who are getting into some pretty serious arguments with each other about if I had a c section or not...this should clear it up: as you can see from this pic, I did not have a c section," she added.
Baldwin also felt she had to explain why she stayed in hospital an extra night, explaining that Rafael came a "little early".
The couple announced the birth of their second child last week with a touching photo of their newborn son's tiny hands.
They also have a daughter, Carmen, who was born in August 2013.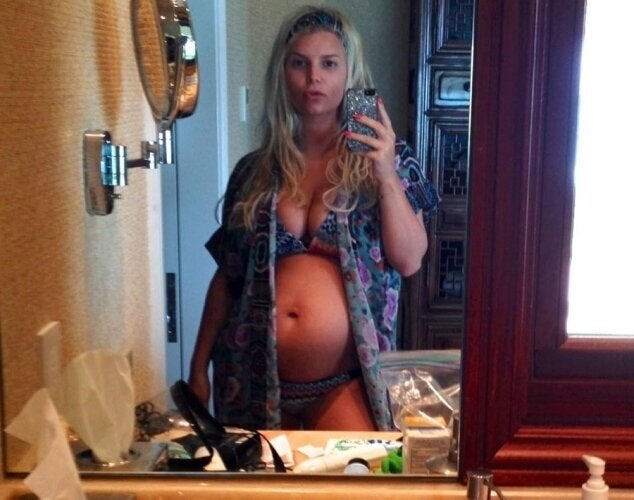 Celebrity Baby Bumps