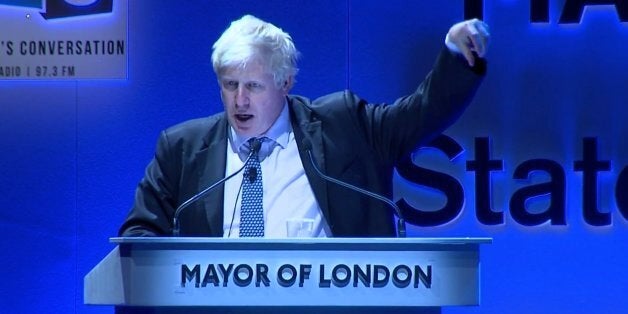 Uber cab drivers in London will have to pass a language and 'Knowledge' style test before driving in the nation's capital, Boris Johnson revealed tonight.
Speaking at the his final State of London debate before stepping down as Mayor next year, the Tory MP said he "disapproved" of how Uber operates.
The Licensed Taxi Drivers Association has repeatedly called on Transport For London (TFL) to place the same restrictions on Uber which it places on the capital's black cabs.
At the Indigo hall in London's O2, Mr Johnson praised the "Rolls Royce service" provided by black cabs, and said: "It is not fair that a black taxi driver has to spend four years getting the Knowledge and somebody else can just cruise in and take up the trade without really knowing how London works and how it all fits together. TFL are currently consulting on a proper geographical test so you can't drive a mini cab in London unless you know one end of the city from the other.
LBC radio's Nick Ferrari, who was hosting the event on behalf of the station, asked: "Like a Knowledge for Uber drivers?"
Mr Johnson replied: "There would have to basic geographical knowledge. Point two, there would have to be basic English, basic command of the English language. I don't think that's an unreasonable thing.
Mr Ferrari asked: "How are you going to test Uber drivers and others knowledge of London?"
Mr Johnson said: "We will do it in the same way we do for black cabs. It wont be like the Knowledge because I think it is important that the black cabs retain their distinctiveness."
The London Mayor admitted neither he nor TFL were able to ban Uber from operating in the capital, and said: "[As] much as I might not like some of the brash attitudes of these gigantic American internet companies and the way they think they can come over and disrupt the market in this country.
"I disapprove of it, I think they are setting out to do serious economic damage to the black taxi trade but it is not possible for me simply to ban something and to expect that ban to work."
Mr Johnson is in his final year as Mayor of London, after vowing not to contest the 2016 election.
The Tory was first elected in 2008, but last month he returned the House of Commons as an MP after winning the seat of Uxbridge and South Ruislip.
During this evening's 90-minute debate, Mr Johnson answered questions on a range of issues from audience members and Twitter users.
Housing, airport runways, knife and gun crime, wheelchair access to the underground and the behaviour of cyclists were some of the subjects which arose.
Mr Johnson took on many of the questions with his usual faux-shambolic manner, and his crop of blonde hair became more unruly and dishevelled as the evening wore on.
He enjoyed bantering with the crowd, but came unstuck when he asked one questioner why he wasn't standing up to speak.
"Because I'm in a wheelchair," was the response.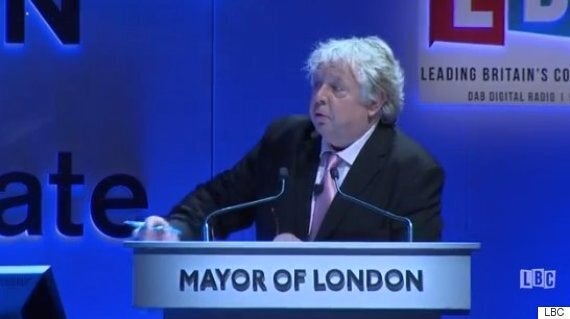 LBC host Nick Ferrari quizzed the London Mayor
Mr Johnson once again spoke out against a third runway being built at Heathrow airport. He joked that if the Davis Commission into Britain's air capacity recommended extending the West London airport he would reflect on it for "about 40 seconds." Mr Johnson again talked up the notion of a Thames Estuary airport, but said if that option was completely ruled out then Stansted Airport in Essex could be suitable for expansion.
Mr Johnson said families of "kids who may be growing up exposed to this absolute nonsense" of extremism had a job to tackle any radicalisation. When pressed by Mr Ferrari how closely monitored all of the 4,000 people Mr Johnson claimed were under surveillance, the Mayor refused to provide a figure.
The London Mayor called for the implementation of the "Enfield's Law" when it comes to knife crime. This would mean anyone discovered carrying a knife on two occasions would face jail. "We are still seeing too many kids dying, but it's not as bad as it was," he said.
Appearing to make the policy up on the spot, Mr Johnson suggested bicycles should be taken away from cyclists who run red lights or mount the pavement. "I know you speak for millions people, and lots of people share your frustrations," the Mayor told one audience member who raised the issue of cyclists behaving badly towards pedestrians. "I watch cyclists jump the lights, mount the pavements and scare the wits out of pedestrians," he added.
Mr Johnson suggested the "stakes were much lower" on Britain's potential exit from the European Union for a long time. He said: "The big opportunities for our country are from around the world from our growth markets." Mr Johnson said he favoured Britain staying in a reformed EU.