The real Queen Elsa (from Disneyland Florida) has sent a heartfelt video message to a three-year-old Aboriginal girl, who was told she couldn't dress as her favourite Disney character because of her race.
Rachel Muir, from Ballarat, said her daughter Samara cried after she was subjected to the racist abuse at a shopping centre in Melbourne earlier this month.
The three-year-old was waiting in line for a Disney-themed event when a mother, who was stood in front of her, told her she could not dress as her favourite Frozen character because "Queen Elsa isn't black".
Then, one of her daughters reportedly screwed up her face and said: "You're black and black is ugly."
But after hearing Samara's story, Meghan Hope, who is a staff member at Disney World in Florida, was outraged and decided to do something about it.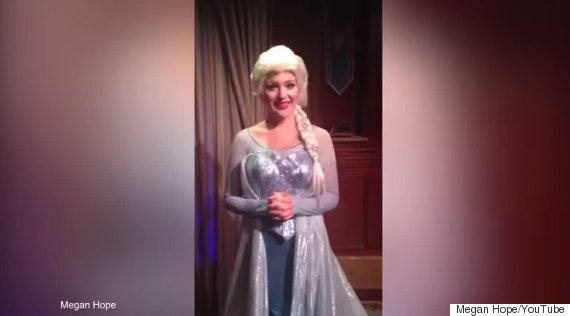 The 20-year-old organised for Queen Elsa to send Samara a personalised video message to say "always be yourself".
In the video, she says: "Hi Samara, it's Elsa. I heard a little bit about you so I wanted to say hi and I hope you're having a good summer and keeping nice and cool.
"I want to remind you to always be yourself and let it go!"
Before the end of the video, she blows Samara a kiss.
My daughter was in tears when we were at watergardens for the frozen activities as a mother & her 2 daughters told my...

Posted by Rachel Muir on Sunday, 31 May 2015
SEE ALSO:

Internet Cheers Up 3-Year-Old Princess Elsa After Racist Attack

Five-Year-Old Josiah Duncan Begs His Mum To Buy Food For A Homeless Man, Makes Entire Restaurant Cry
But it wasn't only Queen Elsa who jumped to support the Frozen fan.
As word spread of Samara's story, the three-year-old's mother received hundreds of messages of support from fans across the globe.
She has also been given tickets to see - and perform in - the Disney On Ice show and has been inundated with Disney-themed gifts.
"We are very overwhelmed and shocked by the kindness of people. I didn't think people would care so much," Samara's mum told The Courier.
"I can't express how much it has meant to us. To know that she has touched so many people … that they see her how I see her, is just incredible.
"She is back to her proud, beautiful Aboriginal self."