A painting of the Queen as a young girl sat on top of a blue pony left the Royal more confused than impressed during her state visit to Germany on Wednesday.
The present from German President Joachim Gauck was given to the Her Majesty, who commented, "That's a funny colour for a horse".
Artist Nicole Leidenfrost's painting shows a young Princess Elizabeth riding a blue pony, with flecks of yellow and green on it, being led by the Queen's father, George VI, who is holding the animal's reins.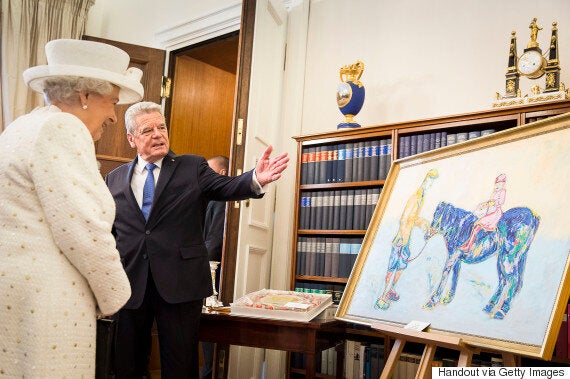 German president, Joachim Gauck, presents the Queen with her gift
The colour of the equine wasn't the only thing that stumped the Queen, who struggled to identify the man in the picture. She asked the German president: "Is that supposed to be my father?"
The good-natured conversation carried on and Mr Gauck said "Don't you recognise him?" and his guest replied "no".
It is customary during state visits to exchange gifts.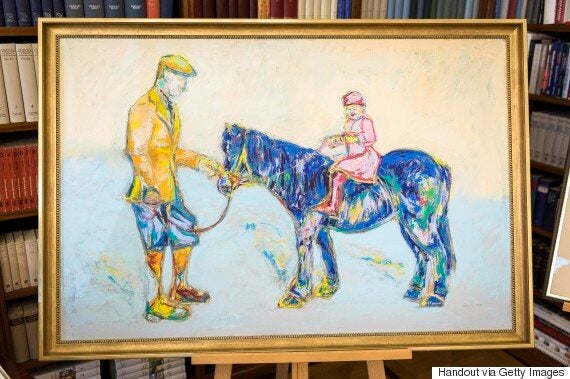 The painting by local artist, Nicole Leidenfrost, shows a young princess Elizabeth riding a blue horse which is being led by her father
The two world figures met at the 18th century Bellevue Palace, the president's official Berlin residence, with their partners, the Duke of Edinburgh and Daniela Schadt.
The painting, commissioned to mark the visit, was produced from a photograph taken in 1935 when the Queen was either eight or nine-years-old.
Prince Philip was given an 18th century map of Europe and some luxury marzipan.
In return the Queen and Duke gave the president a four volume set of the early 19th century letters of German nobleman Prince Hermann von Puckler-Muskau chronicling his journey around England, Wales, Ireland and France.
There was also a private gift to the president's partner - a pair of candlesticks.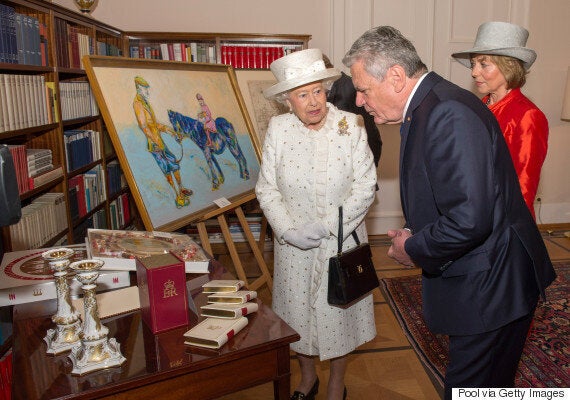 It is customary to exchange gifts on such state visits
The Queen arrived in Germany on Tuesday on a chartered private jet that is also believed to be used by the Premiership team Tottenham Hotspur Football Club.
Before the Queen arrived the monarchy's annual accounts were published, which revealed Scotland could cut its contribution to the British monarchy if plans for further devolution get the go-ahead.
It was also revealed that the Queen may have to move out of Buckingham Palace to allow the historic building to be refurbished at an estimated cost of £150 million.
After meeting Germany's president, the Queen and Duke joined their hosts for a trip on the River Spree through the centre of Berlin.
Thousands of people lined the banks to catch a glimpse of their famous visitors travelling in Ajax, an open pleasure cruiser built for a German brewing magnate in the year the Queen was born, 1926.
Onlookers cheered from the banks and waved Union flags, while hundreds of schoolchildren stood screaming on a bridge as the Queen passed below.