Charlie and Harry Thuillier were told by experts their dreams of making an ice cream which contained less calories than an apple were impossible.
But, despite the doubters, and at one point only having £1.50 in the bank, the two brothers defied all expectations and launched Oppo, an ice cream made from natural ingredients such as coconut milk and stevia leaf, replacing the traditional cream and sugar.
Not only have the pair, both York University graduates, come up with a healthy alternative to indulgence, they're also passionate about helping society rethink its relationship with food.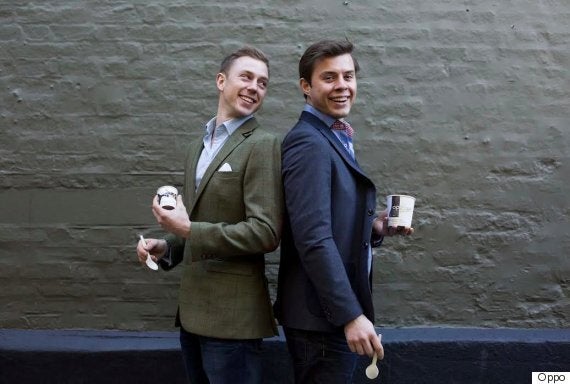 Harry and Charlie with their Oppo creations
Oppo was recently named 'Start-up of the Year' by the Guardian, was a finalist at the 2015 World Food Innovation awards for 'Best New Brand and Business' and reached the semi-finals of Virgin's 'Pitch to Rich' competition.
Charlie, who was 23 when he founded the business, spoke to The Huffington Post UK, about his journey into entrepreneurship, and how important incubators are for small businesses.
Did you ever intend to start your own business? Or is it something you just fell into?
I realised I enjoyed business at nine years old when I started trading Pokemon cards at school. I exchanged any items I could get my hands on in return for the cards. Once I had a complete pack I'd sell them for quite a handsome profit! My business portfolio quickly expanded to encompass a profitable tuck shop, which had a detailed P&L [profit and loss statement] including gross margins and even promotion periods!
Later, after entering the corporate world, I quickly realised I wanted to have my own business; I wanted to work for something I was truly passionate about.
For my brother Harry, the catalyst was literally a bump on the head. After a kitesurfing accident Harry couldn't work or look at a screen for two weeks, allowing him the space and time to think. It was then that he realised he wanted to work with me and take the opportunity to help develop Oppo.
What's your driving force behind Oppo?
We want to build a beacon business; something that customers love and want to be affiliated with and that employees really care about. At Oppo we're fed up with food and drink companies using artificial and unhealthy ingredients to make products taste great. There is no need. We are passionate about using natural healthy ingredients to transform indulgence.
Does society need to rethink the way it treats food?
Yes, however we shouldn't have to change our demands – in fact it's almost impossible to change consumer demands and habits.
A two-pronged approach is required to solve any such problem. With over-consumption of sugar for example, we need to educate on the importance of sugar reduction for consumers to in turn prevent the default request for sugar. Simultaneously it is the responsibility of manufacturers to not only reduce the sweetness of foods, through cutting sugar, but they must also offer sugar alternatives.
We can't go cold turkey on consumer demands, the responsibility lies with manufacturers to provide the foods we want to eat. They must ensure they match the taste expectation but not at the detriment to health.
In every market, consumers will buy what they want to buy - it is very difficult to change their habits. This is what the government, lobbyists and brands so often get wrong. It is the responsibility of food producers to reformulate and reinvent to satisfy consumers demand. Oppo aims to do this by offering a product that matches the taste and expectation of ice cream, but achieves this sensation through entirely different methods – no sugar, no cream, and natural healthy ingredients.
Healthy ice cream…even two years ago people would not have believed you (and they still don't to an extent) because it sounds too good to be true.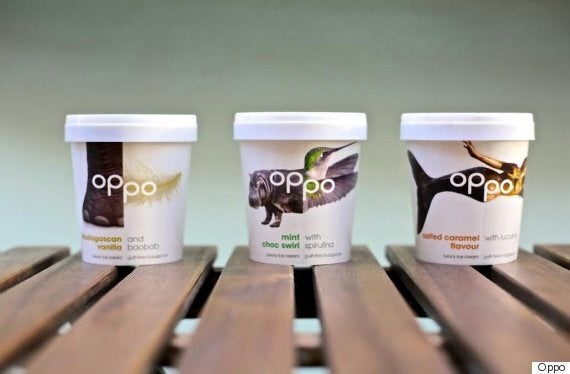 I hear there were a few challenges along the way?
The first large challenge I faced was that I had no experience in food production, manufacture, or food science. So I asked around. Everyone, including a senior executive at one of the world's largest ice cream manufacturers, told me the idea of a truly healthy ice cream was impossible and could not be done. Experts were hesitant to come on board, but I realised if everyone said it was impossible, it must be a good idea!
Funding is always a challenge for any small business, especially when Oppo was literally just a concept with no brand and it hadn't even been proven whether the concept was possible - 18 months into developing Oppo the recipe still wasn't complete (the mixture was too thick – blowing a factory valve and spewing £8000 of ice cream onto the floor). I had £1.05 left in the bank account and a year's worth of work literally on the floor. Not ideal.
Initially persuading retailers that there is a market for Oppo was a challenge. However Oppo is now on the shelves and isn't all over the floor which makes the months of work worth it! Challenges come up every day, especially in a start-up but we keep positive – we believe that you need to see opportunities where others see challenges and reward where others see risk. You have to approach starting up a business with the expectation of a rollercoaster ride.
Do you think you could have launched your business without crowdfunding? How important is the platform to small businesses such as yourselves?
It makes investment accessible while cutting out the men in suits and gave our consumers the chance to own a scoop of Oppo.
We had already launched but Seedrs allowed us to take Oppo to the next level. The biggest challenge for a new business is to raise awareness so having 197 individual investors helps to spread the word!
We closed with over £300k and reached our initial target within a matter of minutes, making us the fastest ever food/ drink company to do so. This gave us invaluable exposure, which was necessary to get the shelf space we have achieved.
And of course, it's now not just our business. Having 197 investors makes us even more motivated to work hard and make the right decisions to make Oppo successful for them too.
Do we need to be nurturing more small businesses to help them succeed?
I recently accompanied David Cameron to Milan on a business trip and this was the exact question the Prime Minister asked me.
There are lots of grants open to small businesses and support mechanisms however tracking them down is timely and often confusing. There needs to be one centralised hub where all these resources are readily available to entrepreneurs just starting out. Government start-up loans should not be capped at £25,000 and the personal risk for the individual must be removed.
More incubators need to be available. I was lucky to have Harry and my father for support and advice. Without them Oppo would not be where it is today. Incubators are an invaluable resource which can be called upon to help understand everything from patenting law to networking opportunities.
So what are your plans for the future?
Our mission is to make Oppo synonymous with healthy indulgence. We want to continue increasing our rate of sale and develop our relationship with existing stockists while continuing to challenge and innovate. We expect to grow the team by 50% in the next 6 months and double our turnover, but constant game changing innovation is crucial.
In addition to the current Waitrose, Ocado and Whole Foods Market stores, in July we are launching into Holland & Barratt and Budgens. So watch this space!
And finally, what advice would you offer other foodies who want to start their own business?
Always remember that product is king. Customer needs are at the core of any product or service you create – if it doesn't serve the market there's little chance of success and growth. It is essential to not get carried away with new ideas and innovations without ensuring there's market demand. It's key the consumer understands and accepts the ingredients you're using, and particularly in health and nutrition, their benefits.
Know what you're good at and hire for everything else. It's fundamental to recognise your personal strengths and weaknesses, only at that point can you hire the right team to compliment your skill set. Also seek advice and mentors. These people are gold-dust and experienced people are often very generous in passing on their knowledge to get the excitement of start-ups without the stress.
Finally; to take on the established names it's fundamental to be different. Don't conform to the norm but excite and surprise. Get ready for the rollercoaster ride! Seize every opportunity and see it as that – see challenges and rewards instead of risk. We knew making Oppo was going to be hard; that's why no one's achieved it before!
Related