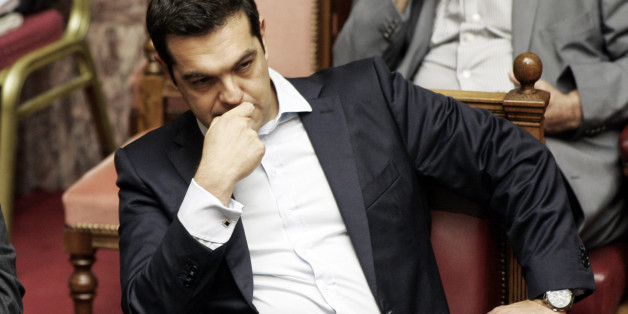 Milos Bicanski via Getty Images
Greek prime minister Alexis Tsipras has promised to "liberalise the market for gyms" in his country, in an attempt to strike a deal with the country's creditors.
On Tuesday, Greece became first European Union country ever to fail to repay a loan to the International Monetary Fund (IMF).
The crisis sees Athens on the brink of being dumped out of the eurozone. Tsipras' government had objected to imposing further austerity as a condition of a further bailout and decided to put the deal to a referendum on Sunday.
However this morning the Financial Times published a letter Tsipras sent on Tuesday evening to the heads of the European Commission, the European Central Bank and the IMF in which he said he would now accept most of the conditions they had insisted on.
In the letter, Tsipras asked only that a VAT discount for Greek islands could be kept and that the raising of the retirement age to 67 would begin in October and not immediately.
Among the previous sticking points that Greece is now ready to agree to including reduce the expenditure ceiling for military spending and phase out the preferential tax treatment for farmers is a pledge to "liberalise the market for gyms".
The fact the gym industry had been a point of contention baffled many commentators who have been following the unfolding crisis.
Including the clincher: pledge to "liberalise the market for gyms". https://t.co/YmEaNeB6JJ

— Heather Stewart (@heatherstewart3) July 1, 2015
Tsipras letter illustrates inherent nuttiness of Euro. National leader writes to Eurocrats: promising to "liberalize the market for gyms"

— Iain Martin (@iainmartin1) July 1, 2015
Sighs of relief in Brussels as Tsipras is prepared to 'liberalize the market for gyms' http://t.co/8Ziln7jziy How absurd can this get?

— Joel Taylor (@JoelTaylorMetro) July 1, 2015
Here's the full Tsipras letter. http://t.co/3CMYTO6nmc pic.twitter.com/jwiKPhxDpr

— Bloomberg Markets (@markets) July 1, 2015
Eurozone finance ministers are due to look at Tsipras' latest proposals at 5.30pm on Wednesday.