Ex-England football legend Kelly Smith has spoken out about the painful loss in the semi-final of the Women's World Cup.
The nail-biting game left the Lionesses red-faced in the 91st minute as Laura Bassett netted an own goal, leaving the score 2-1 to Japan.
The last minute drama left the teams' World Cup hopes crushed just minutes away from extra-time.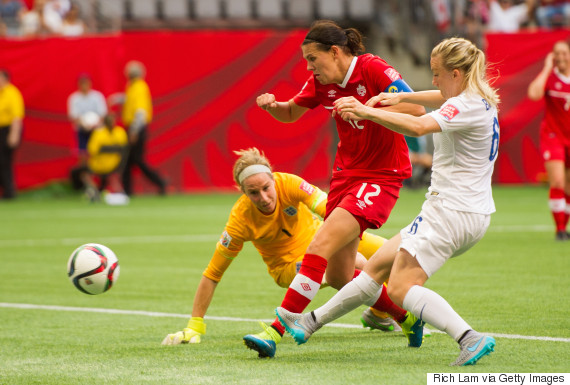 England's dreams were crushed (file photo)
Kelly Smith, who currently holds the record for most England goals, told Fox Sports: "It's a cruel way to leave the tournament and it's absolutely devastating for Laura Bassett"
"I've played with her for years and she's just a great personality."
"It's not the end for Laura Bassett - it will be tough for a while but she'll grow from this."
#ENG is sunk on an own goal by Laura Bassett in the 92nd minute. An unreal turn of events. https://t.co/7SYgZ2WBm3

— Graham Watson (@Yahoo_Graham) July 2, 2015
Devastated fans are flocking to social media to discuss the heart-breaking moment with many leaving supportive messages for the defender on Twitter:
@laurabassett6 chin up! You're a cracking footballer! Good job @england football team...you ladies rock

— emancipated African (@emancipatedAfro) July 2, 2015
@laurabassett6 You were all awesome. S**t happens, just sheer bad luck. Chin up, you've done us proud :)

— Gareth White (@the_shaque) July 2, 2015
@laurabassett6 Don't beat yourself up, football is cruel at times! You played great and made history! Well done x

— PNE Fans Forum (@PNEFansForum) July 2, 2015
Keep your head up @laurabassett6 , the strongest defender. Sending love & respect from Japan. #ローラバセットにエールを

— Hiroking Tanabe (@DJhiroking) July 2, 2015
Hold your head up high @laurabassett6 Immense all tournament. England loves you. So proud of you & all the #Lionesses

— Mat Guy (@MatGuy5) July 2, 2015
The England team beat Norway and Canada in the knockout stages of the World Cup and now they will face Germany for the 3rd place medal.