A three-year-old complained his legs "wouldn't work" during a trip to IKEA – then his legs turned black and just 72 hours later had to be amputated.
Romeo Hadley was with his family in the Welsh capital's branch of the Swedish superstore on 17 January when he complained his legs ached and he could not walk.
His mother, Katie Hadley, 43, noticed purple bruising on his legs and bottom and he was taken straight to the hospital.
She said: "We were told by doctors that he had a huge fight on his hands. It was heartbreaking.
"We just kept vigil by his bedside praying that he would pull through." Hadley took him to University Hospital of Wales in Cardiff where it emerged he had an extremely rare illness called Purpura Fulminans, an often deadly thrombotic disorder which leads to small blood vessels clotting within the skin.
The tot was then taken to intensive care, where he was sedated and put on a ventilator. His parents were warned it was unlikely he would survive the night.
In an attempt to save Romeo's blackening legs, doctors lacerated both his calves to relieve pressure and aid circulation. This was ineffective and two days later Romeo had to have both legs amputated just above the knee in a procedure that lasted 10 hours.
Romeo had to endure a lengthy further operation to remove more of his legs towards the top of his thighs 48 hours later.
SEE ALSO:

No Beach Break For Young Girl Who Is Allergic To Sand

Boy With A Speech Disorder Struggles To Make Friends, Mum Finds A Way To Throw Him The Best Birthday Party
Due to the extent of the surgery he has a colostomy bag, but it's hoped that this won't be permanent.
"All we cared about was him getting through the surgery," Hadley said. "Thankfully he did, then we faced the awful fact that we had to tell him he had lost his legs.
"He was a football mad little boy, always running around causing mischief, I was so worried about his reaction.
"We had a meeting with our son's consultant who told us to be honest and give him a concise explanation when Romeo asked what had happened.
"So when Romeo was lucid, after being sedated for two weeks, I told Romeo that his legs were poorly and a doctor had taken the bad bits away.
"At first he went quiet and couldn't look at legs, but within hours he was talking and playing." After almost six months in hospital and 36 operations and procedures, scans, artificial tissue replacement and skin grafts, Romeo was discharged on Friday and is now back home and adjusting to life without legs.
His mother said: "He's been such a brave little trooper throughout this. He's never without a smile and he's got such a cheeky sense of humour despite what he's been through.
"After we told him about his legs, one of the first things he said was that he'd no longer be able to wear his favourite trainers.
"Then he smiled and told me that at least I didn't have to cut his toenails anymore. That's something he'd always hated having done. He's kept us all going, not the other way round."
Mr Hadley, a dental technician, says: "He's got such a lovely sense of humour. He'll ask for his socks then look at me giggling and say 'I'm teasing you dad.'
"The nurses came up with a story where his Woody doll loses a leg too. Romeo's Toy Story mad – and Woody is his hero. Romeo is yet to fully understand the enormity of what's happened to him and we as a family are adjusting to a very different kind of normal.
"We want to raise awareness of Purpura Fulminans as early diagnosis is crucial to minimise its devastating and debilitating effects".
Mr and Mrs Hadley adopted Romeo in December 2013 after having difficulties conceiving a second child.
Mrs Hadley said: "When we finally met Romeo it was love at first sight.
"He was just so cute, and he soon settled into our family. Seren always wanted a baby brother, so she was mothering him as soon as we bought him home."
While the couple have been with Romeo in hospital, their friend Leanne Bourne has set up an online fundraising page for Romeo.
All donations will go towards Romeo's future and allow him to have legs/wheels, which are hugely expensive, so that he can take part in any activities he wishes.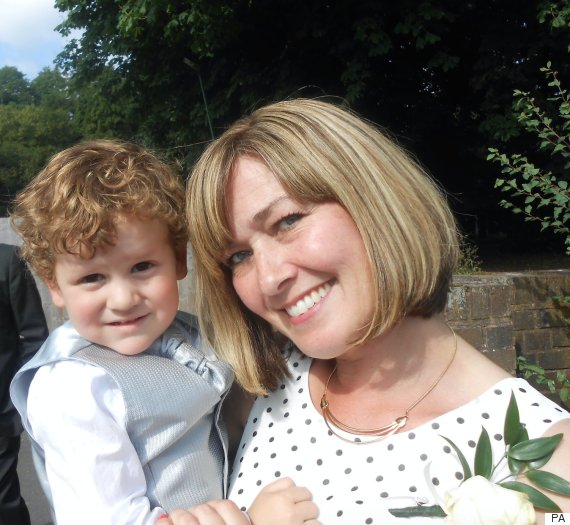 "We can't thank our family and friends enough nor the amount of support and generosity shown to Romeo and us as a family.
"We don't know what the future holds, but we do know we'll do whatever to ensure that Romeo has a rich and fulfilled life."
To donate to Romeo's fund visit: www.gofundme.com/lzphe0