Yesterday may have been the hottest day on record since 2006 and the hottest July day ever recorded, but last night saw huge thunderstorms hit parts of the country.
Northern England and Scotland were treated to spectacular lightning shows, as well as rain, throughout the night.
Things got particularly strange when some areas experienced hail - with some stones even as big as golf balls.
Jonny Bradbrook, of Ravensworth Nurseries, Richmond, North Yorkshire, said his business was a scene of devastation after huge hailstones smashed thousands of planes of glass in his greenhouses.
Mr Bradbrook said the storm arrived at around 9pm yesterday and only lasted for 20 minutes, but left thousands of pounds of damage.
Freaky weather here in Wensleydale tonight with golf ball sized hail! #extremeweather pic.twitter.com/PQ4rWfHW99

— Leyburn Bikes (@Leyburnbikes) July 1, 2015
He said: "I've never known anything like it. They were as big as golf balls. I think there might be 5,000 panes gone but I'll know for sure later."
Mr Bradbrook said many of the panes were left with "bullet holes" and the broken glass has also wrecked some of his stock.
He said: "We've had floods before but nothing like this. There was no rain, just hail and thunder."
And the Tornado and Storm Research Organisation even issued a tornado warning for parts of the Midlands.
Its statement said: "Shear is sufficient for organised severe thunderstorms including supercells, capable of large hail, damaging winds, and perhaps isolated tornadoes."
I took these in the last 30mins from my house looking over the Royal Infirmary #edinburgh #lightning pic.twitter.com/TwWEUiPUS5

— The Bow Bar (@bow_bar) July 2, 2015
According to BBC weatherman Simon King, around 36,000 lightning strikes were recorded between 8am on Wednesday and 8am today.
Some 40,000 homes in the north-east were left without electricity thanks to the storms.
Giant hail stones smash windows and damage cars #northeast

http://t.co/GzXco5SGWM pic.twitter.com/WdeGldwQgP

— The Northern Echo (@TheNorthernEcho) July 2, 2015
Did you see the #lightning yesterday? There have been approximately 36,000 strikes over the last 24hrs! pic.twitter.com/slLRJlxq8S

— Simon King (@SimonOKing) July 2, 2015
Although significantly cooler than yesterday's record high of 36.7C, temperatures today are still predicted to reach as high as a summery 26C.
However there is a a possibility of showers, according to the Met Office - with some concerned that play at Wimbledon could be affected.
If you're in Southern UK..rain and storms on the way..looks like #Wimbledon may get wet later....take a brolly! :) pic.twitter.com/SmUeqfz6NR

— Paul Brown (@Towherenow) July 2, 2015
Forecast doesn't look great for today, hopefully the rain stays away! #Wimbledon

— WTAAddict (@WTAAddict) July 2, 2015
Centre Court's still here! Unfortunately (fortunately for the muggy conditions) the rain looks like it's not far off.. #Wimbledon

— Richard Newman (@rich_newman) July 2, 2015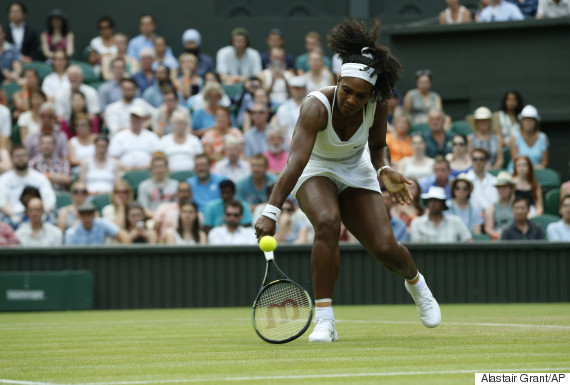 Serena Williams on court at Wimbledon yesterday
MeteoGroup's Nick Prebble said: "Temperatures will be suppressed today, about 10C lower than yesterday with highs of 25C or 26C. It will be noticeably cooler but still warm.
"Friday will likely stay nice and dry across most places and temperatures will be a little warmer, around 27C or 28C, although there will be some unsettled weather Friday night with more thunderstorms, possibly in the south west of England."
SEE ALSO:
But for those of you who sat in the office yesterday dreaming of firing up the BBQ at the weekend, there's some good news - it's going to be another scorcher.
Prebble added: "Looking into the weekend, it could top 30C again on Saturday in the South East and London and temperatures will be above average elsewhere too going into Sunday."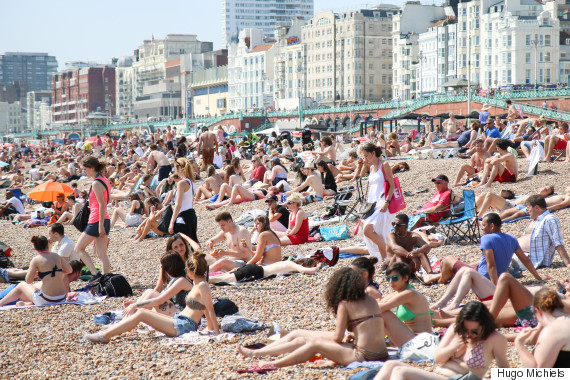 Wednesday saw the highest temperature record in Britain since 2006
While some managed to enjoy yesterday's heatwave, many commuters found themselves struggling to travel.
Services on many providers were restricted or cancelled, while in some cases shuttle bus services had to be brought in.
Those travelling on the Tube were also subject to sweltering conditions, with temperatures exceeding the legal maximum for transporting cattle.
TfL offers new guidelines for tube travel during heatwave. pic.twitter.com/byKSAoz1EI

— HaveIGotNewsForYou (@haveigotnews) July 1, 2015
Wow. The difference from an empty tube with air con to a full one without is horrific! Bloody hell London! We put up with a lot... #Heatwave

— MichaelaClementHayes (@_mickychaela) July 1, 2015
#HeatWave Tube status update. #londonunderground @tube_boob pic.twitter.com/O74zSw9rG8

— Steve Alcock (@Savechip55) July 1, 2015
OMG PLEASE IF YOU LIVE IN LONDON DO NOT US THE TUBE! HONESTLY ITS SO HOT ITS UNREAL

— Vania Fernandes (@stellabeauty08) July 1, 2015