To mark the 10 year anniversary of the London 7/7 terrorist attacks, HuffPost UK is running Beyond The Bombings, a special series of interviews, blogs, in-depth features and exclusive research reflecting on how Britain has changed since.


More than half of Britons now regard Muslims as a threat to the UK, far more than in the immediate aftermath of the 7/7 bombings a decade ago, an exclusive poll for The Huffington Post UK has found.
The research, conducted by YouGov, also showed that more than three quarters of people surveyed - 79% - believe another attack on the scale of 7/7 in Britain is likely.
And the figures reveal there has been a large decrease in the proportion of people who think multiculturalism benefits Britain.
The poll was conducted to mark the start of The Huffington Post UK's Beyond The Bombings series, which revisits 7/7 on the 10th anniversary to explore how Britain has changed in the years since.
The suicide attacks killed 52 victims and injured nearly 800 others when four bombs went off at Edgware Road, Aldgate and near Russell Square Tube stations, and on a bus in Tavistock Square.
The research found 56% of people think Islam is a "major" or "some" threat to Western liberal democracy - a notable rise from just 46% of people who said the same thing in a poll taken the day after the attacks on London's transport network on July 7, 2005.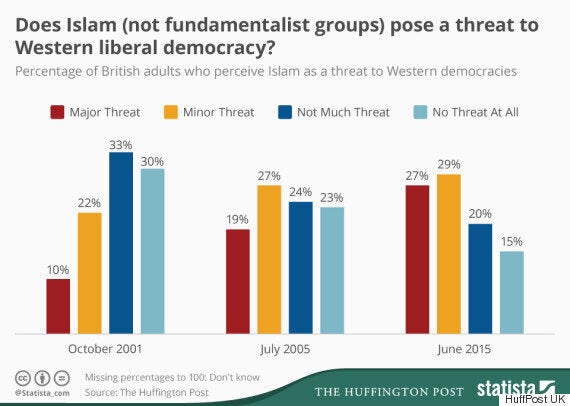 The poll question specifically precluded "fundamentalist Islamist groups", meaning those polled were asked to focus on the religion as a whole.
Taken before the recent beach massacre which killed at least 30 British tourists in Tunisia, it reveals a marked rise in negative attitudes towards Muslims.
Over a quarter of people (27%) said they saw Islam as a "major threat" to Western liberal democracy, a jump from 19% who said the same in a YouGov poll conducted on the day after the 7/7 bombings.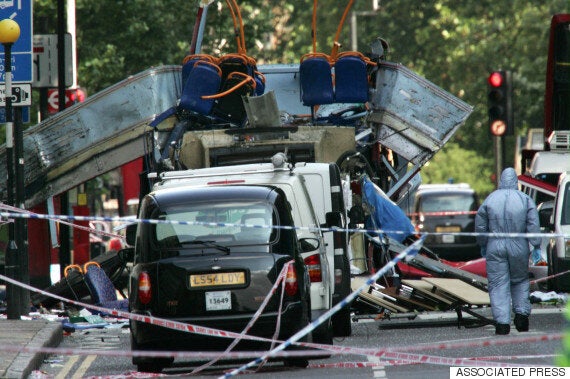 The 7/7 bombings on London Tube trains and a bus was the worst ever terror attack on Britain
The new poll also reveals a decrease in proportion of people agreeing that most British Muslims were "peaceful, law-
abiding citizens who deplore terror attacks in the name of Islam".
Just a fifth of people (20%) said this phrase applied to "practically all" Muslims, and 60% said it applied to most Muslims, a decrease from 23% and 64% respectively 10 years ago.
MORE BEYOND THE BOMBINGS:
Gill Hicks, Inspirational 7/7 Bombings Survivor, Reveals Why She'll Never Give Up Fighting Extremism
More people - 15% - now agree with the statement that "a large proportion of British Muslims feel no sense of loyalty to this country" and are prepared to "condone or even carry out acts of terrorism". A decade ago, only 10% of people agreed with this statement.
Miqdaad Versi, the assistant secretary general of the Muslim Council of Britain, told HuffPost UK the survey did not surprise him, as he had seen evidence hostility towards Islam in this country was rising.
He pointed to a Comres poll taken for the BBC after the Charlie Hebdo attacks in January, in which 95% of Muslims polled said they felt loyal to their country and 72% disagreed with the statement "Western liberal society can never be compatible with Islam".
But he said the growing fear of Islam was caused by the actions and rhetoric of a "very small minority".
"It shouldn't be taken a representative of the majority just as the far right shouldn't be taken as representative," he said.
He said of the recent Tunisia attack: "There were one or two gunmen but the majority of staff formed a human shield. That was radically brave. I personally find that hugely courageous. I wouldn't be able to stand in front of a gunman."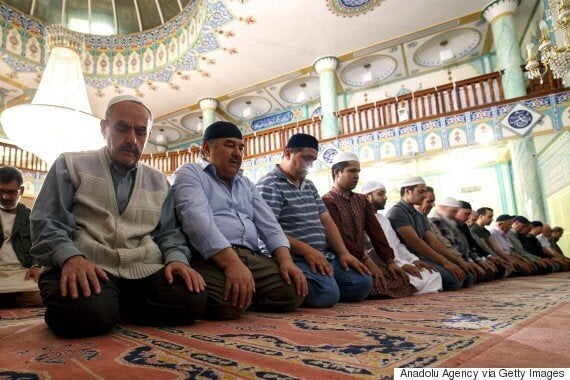 Muslims perform the first 'Tarawih' prayer on the eve of Ramadan at the Suleymaniye Mosque in London
When asked if there had been an increase an anti-Muslim attacks in Britain, he said: "There no strong data to justify that but anecdotally, yes. More people are coming in to say, talk to me personally about hostility they face."
He added: "A friend of mine is a teacher. A Muslim child went home to his father and asked 'are you a terrorist?' because he had a big beard. Another friend of mine wears a facial covering and was on her way home when harassed and verbally assaulted on the train. She didn't know what to do. Nobody intervened to help or support her."
He said abuse and harassment was the work of a minority of people but said hostility to Muslims had "passed the dinner table test" of acceptability. "It's just something can say. I think it's become a lot more mainstream… but [it's due to] the actions of a small minority."
Support for multiculturalism has plunged, the poll suggested, with just 37% of those asked feeling that it made Britain a better place to live, but 38% said it make the country worse.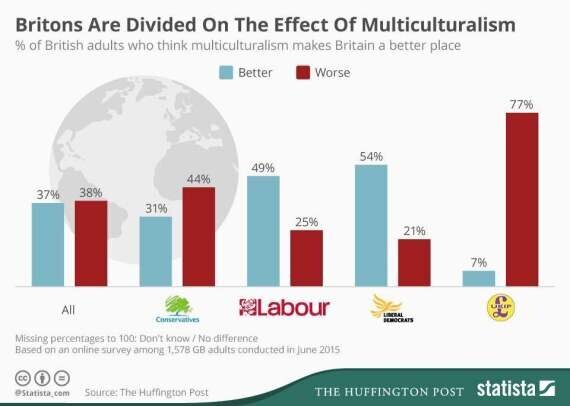 Only 7% of Ukip voters felt multiculturalism made Britain a "better" place to live in, while 77% of them felt it made it worse.
Among Conservatives, 31% felt multiculturalism made Britain better, 44% felt it made it worse and 20% didn't know. Among Labour voters, these figures were 49%, 25% and 20% respectively.
Only Lib Dem voters agreed by a majority - 54% - that multiculturalism had made our country better.
The HuffPost UK poll also showed stark variations in how threatened British people felt by Islam based on political party affiliation, socio-economic group, age and region.
Young, wealthy and left-wing people are more likely to have a positive view of the religion. Over half (54%) of 18 to 24-year-olds say Islam is not a threat to Western liberal democracy, while just a third (34%) feel it is a threat, rising to 71% of people over 60.
Less than half (43%) of 'ABC1s' - those in the top three socio-economic groups - say Islam is not a threat, but only 27% of 'C2DE's', the lowest three groups, agree.
People living in London, where the 7/7 attacks took place, were among the least likely to see Islam as a threat to liberal democracy.
Only 41% of Londoners felt the religion was a threat, compared with 61% in the rest of the south of England, 60% in the Midlands and Wales, 59% in the north and 44% of Scots.
The poll found 83% of Ukip voters regard Islam as a threat, compared with 63% of Tories and 47% of both Labour and Liberal Democrat voters.
When YouGov polled people on whether Islam was a threat in October 2001, only 32% said it was, while 63% said it was not.
YouGov polled 1,578 British adults for The Huffington Post UK between June 23 and 24, 2015.
Related