The US Air Force has cancelled an Independence Day event at a UK base over security concerns.
The Red Arrows had been due to perform on at RAF Feltwell in Norfolk, during a two-day public event hosted by USAF members based at RAF Lakenheath and RAF Mildenhall.
A statement on the RAF Lakenheath website said: "The decision was made due to the most current local threat assessments. The base continually surveys the security environment alongside host nation counterparts and must take appropriate measures based on those assessments."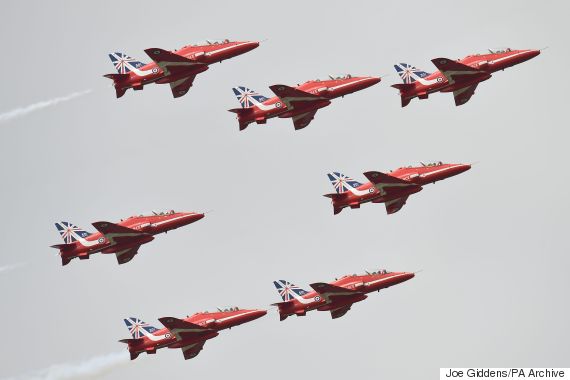 The US Air Force has cancelled an Independence Day event involving the Red Arrows because of security fears
Colonel David Eaglin, vice commander of 48th Fighter Wing, said: "While we were certainly looking forward to this year's celebration and hosting the US and UK communities at RAF Feltwell, we have to put public safety first and foremost.
"We apologise for any inconvenience this cancellation has caused and we will continue to work with our UK counterparts - both military and civilian - to make sure we keep our Airmen and the local communities safe."
Col Robert Novotny, 48th Fighter Wing commander, told the BBC the show had been cancelled "out of prudence" but would not confirm whether it was related to the Tunisia beach attack which killed 38 people, including 30 Britons.
He said: "What we learned over the last 48 hours ... gave us a great pause as to whether we wanted to have a large mass gathering on a military base.
Story continues below
"We cancelled our picnic - we haven't cancelled a single combat sortie. We haven't taken our foot off the throat of the enemy - none of that has changed. 
"So if the terrorists consider us cancelling a picnic as a victory, I think they should readdress their calculus."
A spokesman for the Red Arrows tweeted yesterday: "We're sorry to say tomorrow's display and event at RAF Feltwell has been cancelled by organisers."
SEE ALSO

Tunisian Survivor Owen Richards, Who Lost Three Relatives In Massacre, Bravely Supports Grieving Mother During Minute's Silence

Minute's Silence For Tunisia Shooting Victims Is 'Bulls**t' Says Russell Brand

Student Captures Seagull Flying Alongside Red Arrow Formation In Best Photobomb Ever