To mark the 10 year anniversary of the London 7/7 terrorist attacks, HuffPost UK is running Beyond The Bombings, a special series of interviews, blogs, in-depth features and exclusive research reflecting on how Britain has changed since.

This is the moment 7/7 survivor Gill Hicks was reunited with PC Andy Maxwell, the man who came to her aid when she was critically injured at Kings Cross Station in London nearly ten years ago.
Hicks, who was standing just one person away from suicide bomber, Germaine Lindsay, defied all odds to survive the attack, despite having lost 75% of her blood.
The reunion came as she took part in the "walk together" initiative, which calls for the people of London to get off public transport a stop early on the anniversary of the bombings.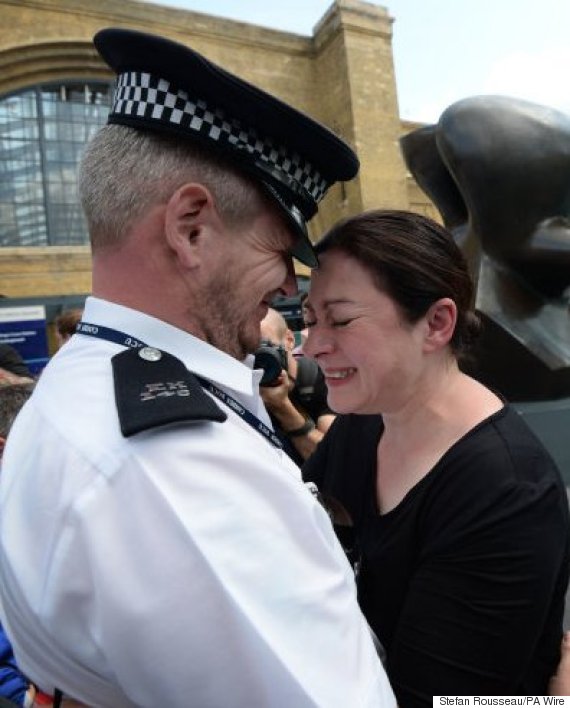 Gill Hicks is reunited with the Police Officer who came to her aid during 7/7
On the fateful day of July 7th 2005, Hicks was the last person to be rescued from the wreckage in the capital and lost both legs in the explosion.
PC Maxwell was one of the Metropolitan Police officers who saved her life by using a makeshift stretcher to carry her out of a Tube tunnel so she could receive emergency medical treatment.
The attack, which killed the bomber and 26 other people in the carriage changed the 47-year-old's life forever and she now leads inspirational speeches and campaigns.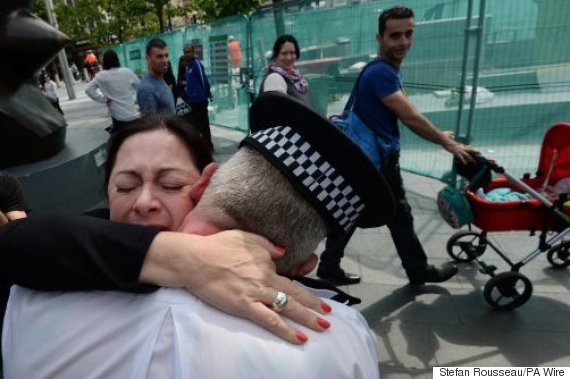 Gill Hicks embraces Pc Maxwell who rescued her from the wreckage of the 7/7 attacks
Hicks presented PC Maxwell with a higher commendation for "extreme courage" in 2006.
Speaking at the time she said: "I have since gone on a journey of discovery of all who were there at the scene so I can meet and thank them. I am pleased to say that the vital ones are now best friends.
"It's wonderful, it is a bond that is almost indescribable. How do you say thank you to someone who saves your life?
"I hope we can say that we will be friends for life, I hope that is how it stays. It is just remarkable people have risked their lives in saving me."
MORE BEYOND THE BOMBINGS:
"Walk together" will see Hicks and leaders from the Muslim, Jewish and Christian faiths walking from Kings Cross to Tavistock Square.
The group were seen carrying a floral tribute spelling out "Together", which was inspired by the spirited scenes of solidarity on the streets of London on 7/7.
The public is also being asked to show their support by sharing a picture or message with the #WalkTogether hashtag.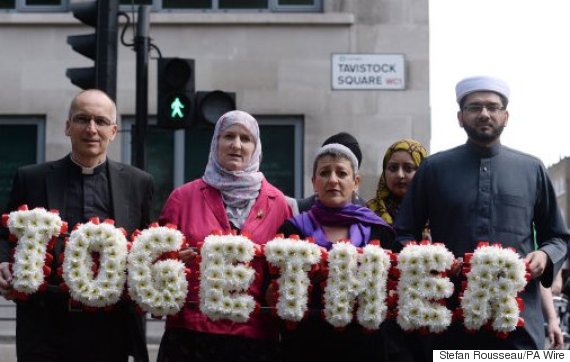 (From the right) Imam Qari Asim, Imam of Makkah Masjid, Leeds largest mosque; Rabbi Laura Janner-Klausner, Senior Rabbi, Movement for Reform Judaism; Julie Siddiqi of the Islamic Society of Britain, Revd Bertrand Olivier, Vicar of All-Hallows-by-the-Tower, London.
Commenting on the, scheme Hicks said: "My life and those around me changed forever on July 7, 2005. I believe in the power and brilliance of humanity - my life was saved by strangers, people who never gave up, people who risked their own lives to save mine.
"To them, I was a precious human life - my rescue wasn't dependent on my faith, my colour, my gender or wealth.
"Walking Together allows us the time and space to talk, to share and to know the 'other'. Our unity can offer the strength to not only deter anyone from following the path of violent extremism, but to also build a sustainable peace."
How was Britain impacted by the 7/7 bombings? Join the @HuffPostUK conversation on Twitter with #BeyondTheBombings