NME and its publisher Time Inc have announced a big change, revealing that the magazine will become free in September 2015.
SEE ALSO: From Joy Division To Amy Winehouse - The Covers That Defined NME
The news was announced on the mag's website, in a blog post from editor Mike Williams.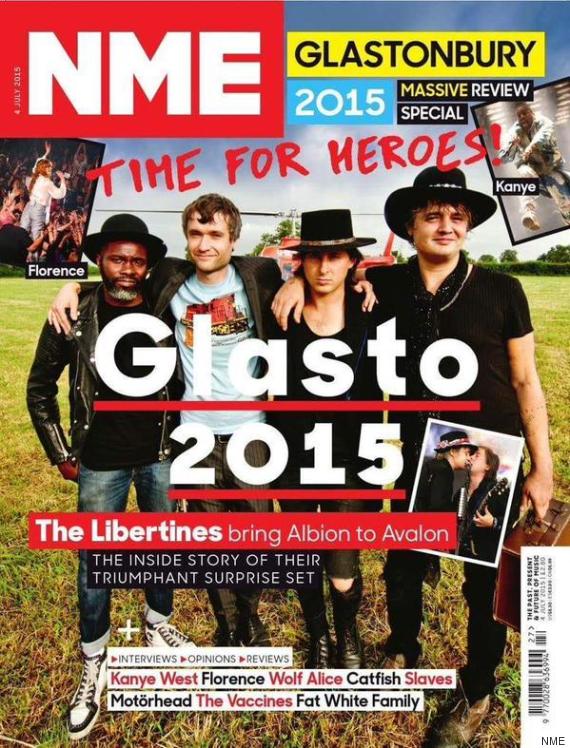 The current issue of NME celebrates all things Glastonbury Festival
Mike explained that the decision has been a long time coming, writing that the new plan is to deliver "a brilliant new free weekly magazine that will reach more than 300,000 people each week".
Copies will be distributed at train stations, universities and in partner retailers.
NME.com will also be receiving a huge makeover, and Mike promised there would also be "some shiny new digital products which I'll be able to tell you more about very soon, plus more live events, new video series and more interaction with you guys on new social platforms".
He said: "The new free magazine launches on September 18 in the UK. As I type this, some of the NME team are locked away in a dark basement in NME Towers working on even more ideas to make sure it's not only a brilliant magazine, but that it gives you everything you asked us for. I'm confident that it will.
"In the 63 years since we have evolved and transformed plenty of times, ensuring that we keep on growing and that we keep setting the agenda. The evolution of 2015 is our boldest ever move, and I'm delighted to be able to share the news with you at last," he added.
The move has been generally well-received by music fans on Twitter, and a number of musicians who have featured on the mag's pages have also shared their thoughts.
Good luck @NME@TimeIncUK hope the new format is a big success in Sept! #brand#music#free

— Leanne Hutchison (@MsHutch) July 6, 2015
Good luck to the @NME as it goes free. Frankly, I would have worked there for nothing. pic.twitter.com/j1MupY6GtK

— Tony Parsons (@TonyParsonsUK) July 6, 2015
It's been coming for a while, but NME going free should do it the world of good

— Tom Hancock (@_TomHancock) July 6, 2015
The ways we hear music & how we find out about it are always changing - some good, some not so. The @NME being free is a brilliant thing

— Tim Burgess (@Tim_Burgess) July 6, 2015
Interesting to see that #NME magazine is to be given away free from September. A bold move into a digital future and others could follow

— Finlay Morrison (@FinMorrison) July 6, 2015
Love that @NME is going free. Really hope it works as well as @ShortList and @TimeOutLondon. http://t.co/2e3vgLrSBs

— Ella Walker (@EllaEWalker) July 6, 2015
Since its launch in 1952, the mag has continued to hold its place as a key brand within the music industry. However circulation dropped to an all-time low of just over 15,000 earlier this year.
The first free issue of NME will be published on 18 September 2015.
LIKE US ON FACEBOOK | FOLLOW US ON TWITTER