Hunters have killed an 11-ft alligator which was responsible for the death of a 28-year-old man.
Tommie Woodward was mauled to death in the early hours of Friday morning after he ignored signs warning against swimming and leapt into a marina in Southeast Texas.
Woodward was told a large reptile had been spotted, but jumped in shouting "fuck that alligator", Orange County Police Captain Robert Enmon said.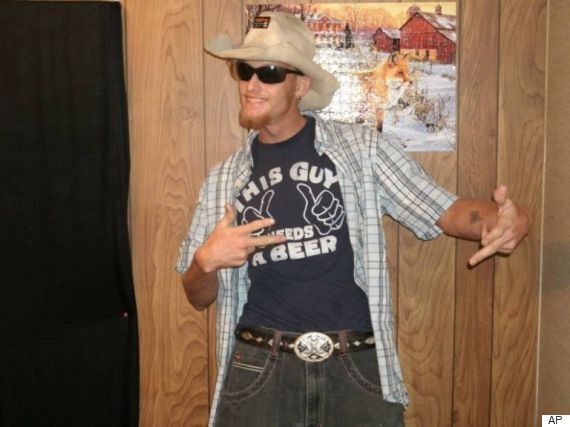 Tommie Woodward died after jumping into a marina inhabited by an 11ft alligator
The 400lb alligator in question was shot and killed without a permit days later, game officials said.
The animal was found with a bullet in its head on Monday afternoon in Adams Bayou in Orange, close to where Woodward's body was found.
Justice of the Peace Rodney Price of Orange County Precinct 4 said remains found inside the carcass were identified as those of Woodward.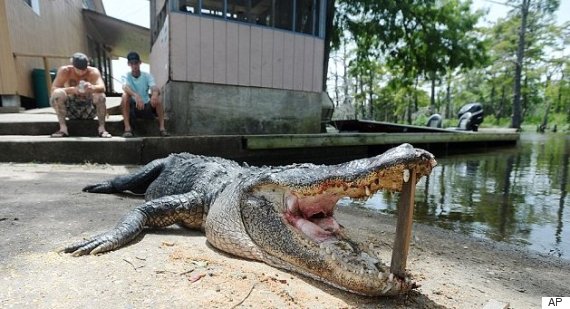 The animal was shot by hunters - without a permit - on Monday
An autopsy determined Woodward died by drowning but lost his left arm below the elbow in the attack.
Texas Parks and Wildlife Department officers had been searching for the alligator since the fatal attack.
Of the fatal attack, Enmon said: "It was pretty much immediate. He had puncture marks on his upper right shoulder and his left arm and elbow received severe damage. The alligator pulled him down and he came back up yelling."
The owners of the marina recently had spotted a large alligator on a few occasions, and put up a sign warning people to stay out of the water, Enmon said.
The reptile could have been startled during the incident or was possibly protecting its habitat, Enmon said.
"You've got to remember that alligators are a predatory species, they are territorial, and they will take advantage of an opportunity," he said.