If you long for a toned stomach but don't want to put in the hours at the gym, then this is the exercise for you.
The 'V-sit with tuck' is a simple move which - according to the guys at Refinery 29 - is the perfect replacement for boring old sit-ups.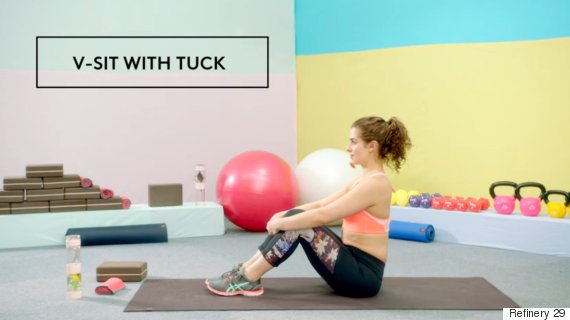 How to do the V-sit with tuck:
1) Sit on the ground with your back straight, palms flat behind you, knees bent and feet planted on the floor.
2) Raise your legs until there's a 45 degree angle between your hips and knees. If necessary, lean back slightly to ensure proper alignment.
3) For an extra challenge, reach your hands off the ground and lift your arms in front of you.
4) Now, bring your chest towards your legs and then extend your legs away from you and towards the floor - being careful not to let them skim the ground. Return to your starting position - that's one rep.
5) And repeat.
SEE ALSO:

Summer Sales 2015: The Best Fitness Gear To Buy This Week

Fitness Trainer Shows How Simple It Is To Fake A Before And After 'Fitspo' Photo