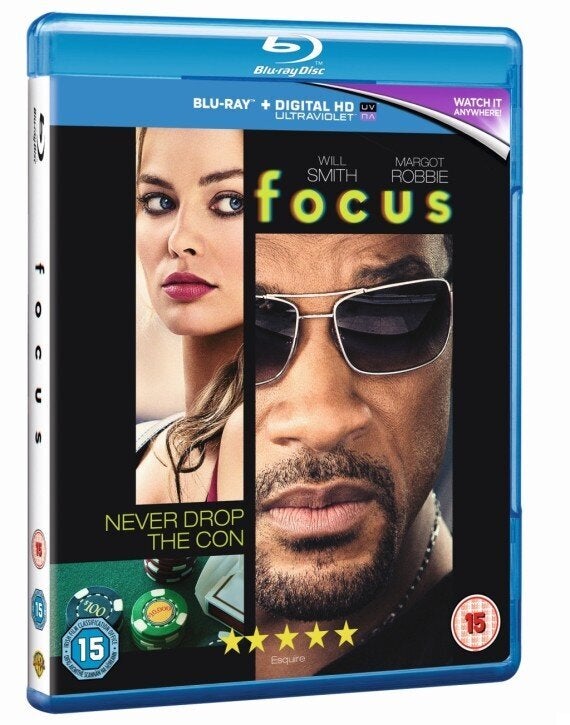 To celebrate the release of the stylish heist thriller, 'FOCUS', starring Will Smith and Margot Robbie, out now on Blu-ray™ and DVD, we are giving you the chance to win an amazing tech bundle!
Will Smith stars as Nicky, a seasoned master of misdirection who becomes romantically involved with novice con artist Jess (Margot Robbie). As he's teaching her the tricks of the trade, she gets too close for comfort and he abruptly breaks it off. Three years later, the former flame—now an accomplished femme fatale—shows up in Buenos Aires in the middle of the high stakes racecar circuit. In the midst of Nicky's latest, very dangerous scheme, she throws his plans for a loop…and the consummate con man off his game. See the trailer here:
In 'Focus', the extremely charming Will Smith teams up with the gorgeous Margot Robbie to create the most stylish con duo you've ever seen. In the lead up to the release of Focus on Blu-ray™ and DVD on July 6, we're taking a look at some of the greatest crime films.
Dirty Rotten Scoundrels (1988)
Steve Martin and Michael Caine play two rival con artists, who make a bet on who can swindle a young American heiress out of $50,000 first. Lawrence Jamieson (Caine) is smooth and charming, preferring to con the corrupt and wealthy, whilst the arrogant Freddy Benson (Martin) is a chancer, conning anyone he can.
The Golden Globe-winning film follows the story of con-man Irving Rosenfeld (Christian Bale) and his seductive partner Sydney Prosser (Amy Adams). The pair is forced to work for a wild FBI agent, Richie DiMaso (Bradley Cooper) who pushes them into a world of Jersey powerbrokers and mafia.
Catch Me If You Can (2002)
Leonardo DiCaprio stars in the film based on the true story of Frank Abagnale Jr. (DiCaprio). Frank conned his way into earning millions of dollars acting as a doctor, lawyer and Pan Am co-pilot; all before his 19th birthday. The film also stars Tom Hanks as FBI agent Carl Hanratty, who followed Frank around 26 countries, making it his sole mission to bring him to justice.
I Love You Phillip Morris (2009)
Jim Carrey and Ewan McGregor star in the improbable but true story of a spectacularly charismatic conman Steven Russell (Carrey) who goes from small-town businessman to flamboyant white-collar criminal. Steven repeatedly finds himself in trouble with the law and brilliantly escapes from the Texas prison system on four separate occasions.
Danny Ocean (George Clooney) and his eleven accomplices, played by the likes of Brad Pitt, Matt Damon and Bernie Mac, plan to rob three Las Vegas casinos simultaneously in the iconic comedy heist film based on the 1960s Rat Pack film of the same name.
FOCUS is available on Blu-ray™ and DVD on 6 July, out now on Digital HD™
© 2015 Warner Bros. Entertainment. All rights reserved
Related