The Who have made a number of bold claims about their recent Glastonbury gig, in a new blog post.
The post - which, according to NME, was penned by a member of the crew who often plays keys - details their set, and claims that the band were a last-minute replacement for Prince.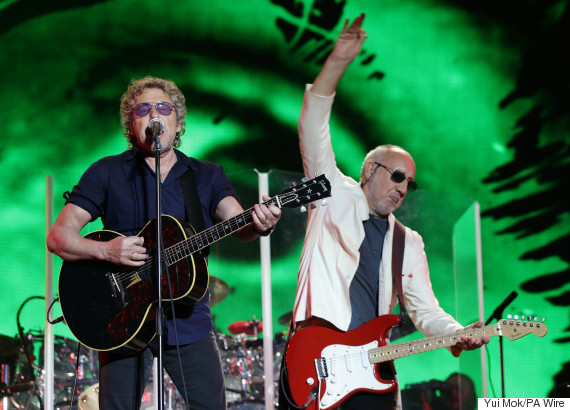 The Who closed the festival
A section of it reads: "Not many know that we were a last-months addition to the show, replacing Prince who decided not to come this year." [sic]
In April Emily Eavis made the rare move of publicly addressing line-up rumours, dismissing reports that stated Prince was due to make his way to Worthy Farm.
Just weeks later, it was confirmed that The Who had rearranged a Paris gig to fit in a stop-off at the festival.
The post continues, and the writer goes on to claim that the band's equipment was "sabotaged", before noting that Pete Townshend wasn't happy with their set.
"As we began to prepare our coming changeover, we found someone had sabotaged the carefully-tested audio connections for much of our gear," it reads. "We've never seen that before, but we're good at plugging things in, so all damage was repaired in time.
"After the show, Pete felt it was one of the very worst the band had ever played… not so!!!
"Our sound and light experts felt it really worked, with one of the most fervent audiences we've ever had, and ZILLIONS of them going nuts, living the music as they sang and jumped and waved arms. Incredible response, so something had to be very right about all this.
"Compared to Hyde Park a few days ago, this crowd of 20-30-somethings was not waiting to be entertained; they were part OF the entertainment."
Story continues below video...
The Who took to the chance to have a dig at Saturday's headliner Kanye West during their gig, sparking a debate that has been raging since.
On Wednesday, Slipknot's Corey Taylor shared with his views, declaring that Kanye is definitely not the rockstar he claims to be.
Oh, how did he do it, you ask? Well, by sitting in a chair and looking stern while staring straight into the camera and delivering lines, that were probably scripted. Long live Rock'n'Roll...
LIKE US ON FACEBOOK | FOLLOW US ON TWITTER