A charity which saves lives at sea has released a series of terrifying videos detailing just how easy it is to drown in the UK's unpredictable waters.
The RNLI, which provides an on call, 24-hour lifeboat search and rescue service around the UK and Ireland, released the videos on Wednesday.
The first, entitled Dangerously Unpredictable, begins with an idyllic sunny day, as a voiceover purrs: "It's the familiar tranquillity that invites you in… and the unexpected wave that insists you stay.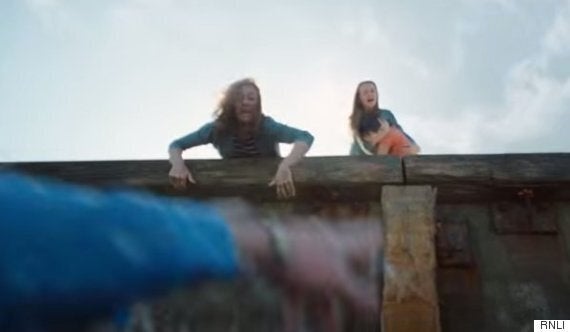 One clip shows a man in difficulty as his frantic family stand powerless
"It's the glittering stage for laughter and applause and the freezing chill that leaves you helpless. You may fleetingly harness its ferocious power, but you can never tame or control it."
The video, shot from a drowning victim's point of view, sees the man pummelled by waves and gasping for breath as his frantic family scream for help.
"It's the moment you will always remember and the day your family will never forget.
"British and Irish waters are dangerously unpredictable. Over 200 people accidentally die each year."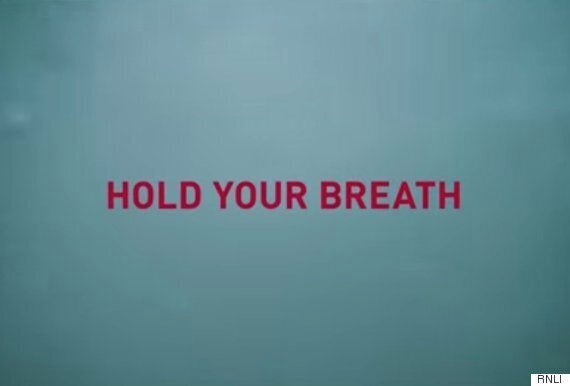 Another asks the viewer to hold their breath and breathe in the manner a drowning victim will have to endure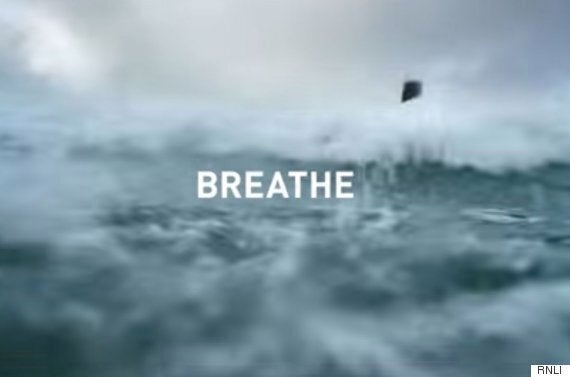 The second film urges viewers to take the Breathe Test, which involves holding your breath in tandem and breathing when possible in a simulated drowning scenario.
The flailing victim falls still in just seconds, as a voice informs us: "On land you would have survived this as the average person can hold their breath for 45 seconds. In the water, you might not last 10.
"Even on a warm day, cold water shock can leave you helpless."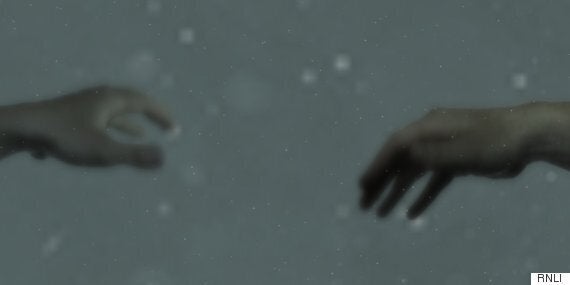 The RNLI Cold Water Shock experience shows the stages of trauma a drowning victim will go through as the air leaves their lungs
The charity, which also runs a seasonal lifeguard service, released the videos as part of its national drowning prevention campaign, Respect the Water.
Coastal fatality figures released by the charity last month show 163 people lost their lives on the UK coast last year – but over half (58%) didn't even set out to enter the water.
Of the 803 people who died over the past five years, nearly half were taking part in activities like walking, running, climbing and boating and were, therefore, unlikely to have intended to be in the water.
Men are far more prone to getting into danger at the coast than women. Last year nearly three-quarters (74%) of those who died were men, higher than the two-thirds average over the five-year period.
The RNLI is aiming to halve the number of coastal deaths by 2024.
RNLI Coastal Safety Manager Chris Adams said: "Most people heading for a stroll or run along the coastline probably wouldn't consider a drowning prevention campaign like this relevant to them as they have no plans at all to enter the water.
"We're warning people that if they're going near the water, whatever their activity, they could be at risk and they need to take care. Unexpected dangers like slippery rocks, sudden waves or unstable ground can catch anyone out."
Jo Wardle's fiancée Alex Hardy drowned at Hendon beach in Sunderland last year, after slipping and being washed into the sea.
She said: "Alex and I were walking the dogs along the beach – we used to go there all the time; it was just a normal day. Alex's dog went down a slipway into the sea but started to struggle. Alex followed, wanting to help, but slipped and banged his head and was then washed out to sea himself. I rushed in, to try and reach him, but the water was just so powerful.
"A huge search took place, but he was gone – at just 32 years old. It was such a massive shock, how a simple walk at the coast can suddenly turn into tragedy. I am still totally devastated. I respect the sea and coastline more now than ever. I'd urge anyone heading to the coast this summer to be really careful – even if you're not planning to go into the water, you could still find yourself in danger."
The RNLI is also warning people of the unpredictability of the water, including the dangers of cold water and rip currents. Summer air temperatures may be warm but the average UK sea temperature is just 12C (53F), with many rivers being even colder. Cold water shock, which causes uncontrollable gasping and numbs the limbs, can set in at any temperature below 15C (59F).
Rips are strong currents of water which can quickly drag people out of their depth. They account for around two-thirds of the environmental-related incidents RNLI lifeguards respond to each year. For those not at a lifeguarded beach, being caught in a rip can prove fatal if they don't take the right steps to free themselves and make it safely to shore.