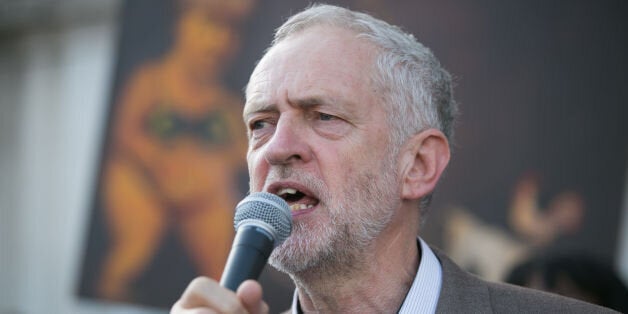 A Labour pressure group is asking supporters of Andy Burnham, Yvette Cooper and Liz Kendall to help each other to ensure leftwinger Jeremy Corbyn doesn't win.
The Huffington Post UK has been passed an email from the 'Labour First' campaign setting out how party members should transfer votes between Kendall, Cooper and Burnham to prevent the Islington North MP from winning Constituency Labour Party nominations.
The email, organised by Labour First Secretary Luke Akehurst, makes clear that the main objective is to stop Corbyn because he would 'destroy Labour's chances of electability'.

The move emerged as the latest totals of CLP nominations put Corbyn in second place behind Burnham.
Burnham has 33 nominations, Corbyn 28, Cooper 24 and Kendall just four.
CLP nominations have no direct weighting in the one-member, one-vote election, but they offer clues to how the four candidates are performing among party members.
Constituency Labour parties have until the 31 July to nominate.
Labour First has been described variously as 'right wing' or 'Brownite' by its critics, but it claims no factional allegiance other than being 'moderate' or 'mainstream'.
Mr Akehurst is a backer of Ms Cooper but there is no suggestion that his tactics have any approval from her official campaign.
Earlier today, the Cooper camp distanced itself from claims that one of its own supporters had played a part in the 'Liz Kendall for Tory leader' spoof Facebook and Twitter accounts.
A spokesman for the Corbyn campaign told HuffPost UK: "Despite starting as very much the underdog, and despite these tactics, Jeremy Corbyn is already proving more successful with CLP nominations than many expected.
"It's seems quite desperate to try to stop Jeremy at all costs rather than have a debate about the merits about all four candidates."
Corbyn's campaign received a further boost tonight when the Guardian reported that 50,000 members of the Unite union were set to be signed up to the Labour leadership electorate.
It emerged yesterday that actor Maxine Peake was also backing the Corbyn campaign, declaring he was a 'beacon of hope' against the 'constant mindless bullying of the vulnerable and the poor'.
The HuffPost's revelation about the 'stop Corbyn' plans prompted a fierce debate on Twitter
But Mr Akehurst was unrepetentant.