Greece on Monday reached a third bailout deal with its European creditors, but while it avoided an exit from the euro and the chaos that would have created - life in Greece apparently just got worse.
The draconian deal [read in full] has been labelled "infinitesimally worse" than the one Greece rejected last Sunday, according to one analyst. European leaders have effectively punched a few more holes in the belt it has around Greece's neck - to keep it in safe bosom of the eurozone - and tightened it further.
As the sleep deprived European leaders zombie-walked out of the Justus Lipsius building in Brussels after 17 hours of talks today, slivering into waiting limousines, it was clear they had a lot to digest - and much of it wasn't pleasant.
French president Francoise Hollande said, to lose Greece would have been to lose "the heart of our civilization", but for Greece the outcome was just heartbreaking.
The result, European Commission President Jean-Claude Juncker said, was "a typical European arrangement," allowing the creditors to save face without humiliating the Greek people, Fortune reported.
Italy's prime minister Matteo Renzi waded in with a sweeping understatement, saying: "We should not toast triumphantly about it, nor should we diminish it".
But what does it all mean?
1 - AUSTERITY JUST GOT WORSE FOR GREEKS
In basic terms Greece has agreed to reform and change the way they run everything and sell off their valuable assets to help repay its new bailout. It now owes around €400 billion, or around 200% of gross domestic product.
Analyst Marc Ostwald of ADM Investors services told The Guardian the measures in this bailout package are "infinitesimally worse" than the ones turned down in last Sunday's referendum.
2 - DEAL MAKES NIGEL FARAGE THE PEOPLE'S CHAMPION
The Ukip leader has called for Greeks to reject the deal, claiming the country had been bullied:
3 - HUMILIATION: TSIPRAS GOES FROM CASTRO TO CLEGG
Proclaimed a hero when his Syriza party swept to power with a massive anti-austerity mandate, Alexis Tsipras now faces claims of a cave-in. As Channel 4's Alex Thomson put it: "Tsipras has gone from Castro to Clegg in about the time it takes to boil an egg." Greece is now in the control of puppet masters in Brussels and Germany.
Tsipras said he had managed to fend off the "most extreme measures" demanded by Greece's creditors.
He must now win the backing of the parliament in Athens for fresh pension, market and privatisation reforms less than two weeks after the Greek people overwhelmingly rejected further austerity in a referendum.
The reaction to the deal will likely dictate Tsipras' immediate future.
Tsakalotos, a 55-year-old economist, had appeared more willing to engage with creditors than his predecessor. "I won't hide from you that I am very nervous and very anxious. I am not taking over at the easiest moment in Greek history," Tsakalotos said after being sworn in.
5 - HOW THE DEAL WAS DONE
The breakthrough, after 17 hours of tense negotiations, finally came in a meeting with Mr Tsipras, Mrs Merkel, French president Francois Hollande and the president of the European Council Donald Tusk.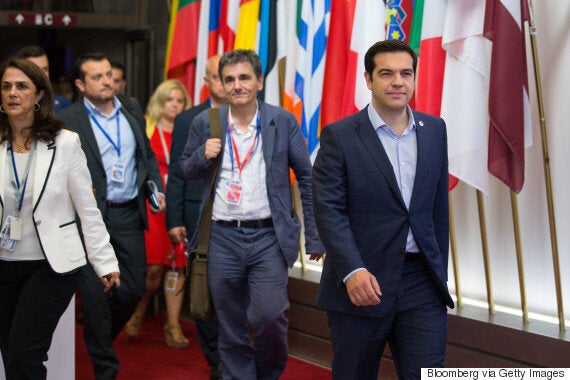 Alexis Tsipras, Greece's prime minister, right, and Euclid Tsakalotos, Greece's finance minister, center, depart following all-night bailout talks in Brussels on Monday
"There are strict conditions to be met. Nevertheless, the decision gives Greece the chance to get back on track with the support of European partners," Mr Tusk said.
"It also avoids the social, economic and political consequences that a negative outcome would have brought."
6 - MUTED IMPACT ON BRITAIN
London, early market reaction to the news of the agreement was muted, with the FTSE 100 Index up around 50 points.
The top flight had already rallied strongly at the end of last week on hopes that a deal could be reached. Banks were among those doing well today with Barclays up 2%.
The 17 hours of talks were clearly too much for some negotiators, who napped on office chairs as the deal went through the night.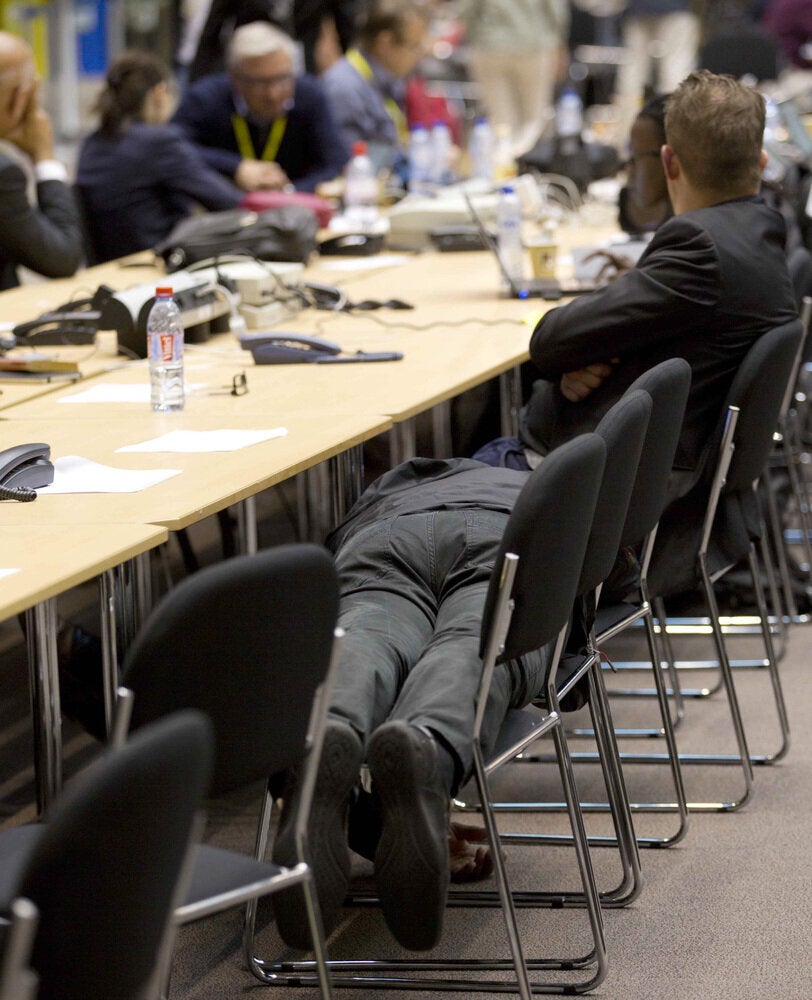 Exhausted workers fall asleep at Euro Summit
8 - NO SAVING GREECE FROM HASHTAG PUNS
An #Agreekment was reached stoping a #Grexit after a #Greferendum.... but we all know they already #Regreekit. Another hashtag to trend was #Thisisacoup.