The man who reported a July 5 car accident that took police three days to investigate feels guilty for not following up.
John Yuill, 28, is believed to have died after crashing off the M9 near Stirling, an accident that left his girlfriend, Lamara Bell, 25, critically injured. Bell, a mother-of-two, died on Sunday.
The man, who has not been named, called police at 11.30am on the day of the crash but police did not follow up the report. It wasn't until they received a second call about the accident three days later that they sent officers to investigate.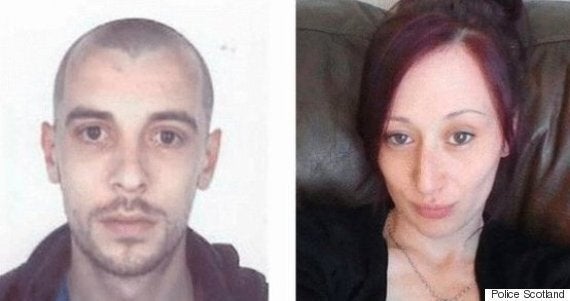 John Yuill, 28, and Lamara Bell, 25, both died after a car accident in Scotland that took police three days to attend
On the Sunday of the crash the couple had already been reported missing to police, having last been seen in the company of friends in the Loch Earn area of Stirlingshire in a blue Clio earlier that day. On Monday police appealed for information about the pair, saying their disappearance was "completely out of character". They also released a picture of their car.
Scotland police have since said they "failed" the couple and the police investigations and review commissioner has launched an investigation. Scottish First Minister Nicola Sturgeon and the country's justice secretary, Michael Matheson, have both given their support to the chief constable of Police Scotland, Sir Stephen House, who has been under growing pressure to resign over the incident.
Sir Stephen has insisted the incident is not representative of "wider systematic issues" brought about by the creation of the single Police Scotland force.
The man who initially reported the accident told the BBC he had become concerned on the Monday and Tuesday when the car was still at the scene, and it did not appear police had attended. But he assumed it "must be awaiting recovery".
He told the broadcaster he was aware people had questioned whether he "should have done more" but he believed police were handling it.
The man said there was "nothing to suggest" that the officer he reported the crash to had not taken the report seriously. It has since emerged that details of the call were never entered into the police systems.
He also thanked the local community for their support.
"I'm blown away by the effort and time our Community in Falkirk are putting into making the loss of my sister as painless as possible for my family," he wrote.
"We just can't thank everyone enough for how amazing you have been. As I have said before it's times like this when you realise how good a community we live in you may think a simple post is nothing but it means so much to our family.
"Just feels like a bad dream right now it really does but all your kind words and efforts are helping so much ...there is so many decent kind people out there."
Related