'X Factor' couple Stevi Ritchie and Chloe Jasmine Whichello have spilled the beans on their engagement, after announcing they are set to wed, over the weekend.
SEE ALSO:
The pair appeared on 'This Morning' on Monday (13 July), revealing to Amanda Holden and Phillip Schofield how he popped the question.
"It was in a really nice restaurant on her birthday eve," Stevi said.
"I had a £10 bag filled with tissue paper and newspaper, and the ring was hidden inside it."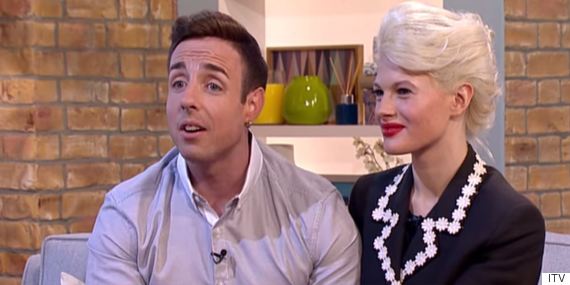 Stevi Ritchie and Chloe Jasmine appeared on 'This Morning'
Chloe said she didn't really expect the present to be quite so significant, admitting she was more interested in scoffing chocolates after doing an intense workout session.
"We'd just been to boot camp so we were starving, and I was concentrating more on the chocolates," she said.
Stevi also revealed that he managed to get a 10% discount on Chloe's ring, which she showed off to Phil and Amanda.
His admission that he'd saved a few quid on the sparkler led to him being congratulated by the show's Money Saving Expert, Martin Lewis.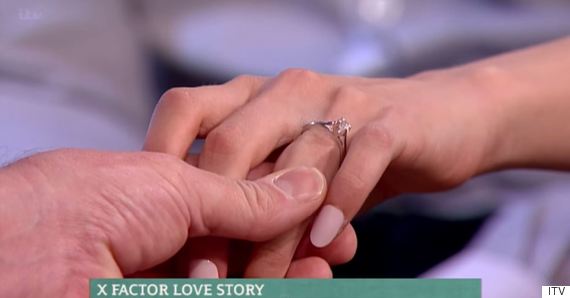 Stevi saved 10% on Chloe's ring
Speaking about her new fiancé, Chloe added: "He's just so unique and charming and funny. He makes me laugh all the time," said Chloe of her new fiancé.
He joked: "I never thought I'd end up with a posh girl in a million years, I'm a commoner."
The pair are now planning to tie the knot next summer, with Stevi's daughter set to be bridesmaid.
In the meantime, Chloe is said to be joining Stevi on the new series of 'Celebrity Big Brother' when it returns next month, after he was reportedly offered a place on this year's line-up.
LIKE US ON FACEBOOK | FOLLOW US ON TWITTER