Becoming a parent is usually one of the most magical moments in a person's life, but for Annie Marston, 25, and her fiance Scott Benton, the day they welcomed their son Wyatt into the world was bitter sweet.
Days earlier Annie had been diagnosed with an aggressive cervical cancer, which had caused complications during her pregnancy, and she had to give birth a month early.
For the next few months, when most new mums would be bonding with their child, Annie was in and out of hospital having chemotherapy and radiotherapy.
Sadly, her cancer is now terminal and she has been given just months to live.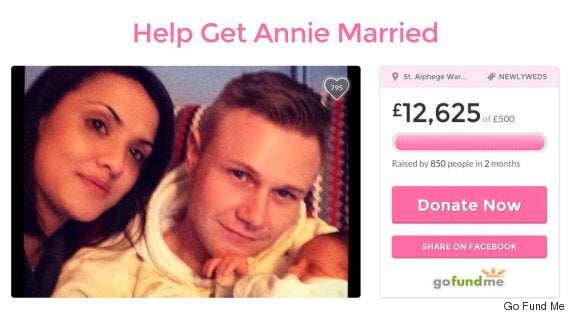 Annie and her fiance decided to get married this summer before she passed away. But instead of the big fairytale wedding she'd always dreamed of, they decided to have something more simple.
But Annie's best friend Laura White had other ideas. She set up a GoFundMe page to raise money to get a cake, flowers and a honeymoon fund.
Now, the total raised exceeds £12,000 and Laura has been inundated with offers from well-wishers to do Annie's make-up, DJ and donate cakes and flowers.
Annie said she is "overwhelmed" by the generosity.
"I didn't want people to think I'm a person with cancer who wants cash," she told Birmingham Mail.
"All I ever wanted was just a lovely wedding day for me, my family and friends to remember.
"I don't know all the details because my friends are arranging it all as a surprise, but they've told me they've been inundated with offers and I'm completely overwhelmed."
According to Birmingham Mail, Annie found out her cancer was terminal on July 1. She had been invited to have a smear test at the age of 25, but couldn't attend as she was already pregnant.
If you want to support Annie and Scott's special day, please visit their GoFundMe page.